-Announcement for Participants Application-
2019 OKFriends Homecoming Teens, Youth Camp
I Overview
Program
Name

-OKFriends Homecoming Teens Camp-

-2019 OKFriends Homecoming Youth Camp-

Period

• 1st : '19.7.17(Wed.) ~ 7.23(Tues.)
(6 nights 7 days)
• 2nd : '19.7.31(Wed.) ~ 8.6(Tues.)
(6 nights 7 days)

• 19.7.9(Tues) ~ 7.16(Tues)
(7 nights 8 days)

Venue

• Teens: Seoul and 11 Local Regions (1st period-6 Regions/ 2nd Period-5

Regions)
• Youth: Seoul and 3 Local Regions













Eligibility

ㅇ Age 14~18
(1st period : '19.7.17 reference)
(2nd period : '19.7.31 reference)
Overseas Korean Middle and High

School students

ㅇ Age 18~24('19.7.9 reference)
Overseas Koreans enrolled in

University or Preliminary University

Students
※ Considering the differences in the international academic calendars, 18 year old preliminary university

students are allowed to choose

between the Teens/Youth

Programs to apply.




Number of participants

ㅇ 680 Overseas Korean Middle and

High School Students
(1st period : 370, 2nd period :

310)

ㅇ 350 Overseas Korean University

Students

Qualifications




ㅇ Among Overseas Koreans Middle/High School and University students
- Overseas Koreans who resided legally overseas for 5 years or more
‧ National Citizens, Permanent Residents, Korean National, Adoptees and

adoptee' child, Children of Multi-Cultural Families
‧ Descendants of Independence Patriot, CIS Korean(Goryeoin), Chinese

Korean, etc
‧ Students who are willing to contribute to the Overseas Korean

community and have outstanding achievements in volunteer service for

the Korean society
‧ Must be in good physical and mental health to fully participate in the

program
‧ Must not be involved in conflicts with the Immigration control laws of the

residing country.

Main program




ㅇ Understanding Korea (Exploring

and experiencing)
- City Hiking, Rural Experience,

Traditional and Modern Korea

Experience, Visiting Historical Sites

and Major Facilities.
ㅇ Understanding Koreans

(Connecting and meeting)
- Homestay, Korean School

Experience, 1:1 Exchange with

Korean Students
ㅇ Finding Korean Identity (Education

and participating)
- Korean and Culture lectures,

lectures, social participation and

activities
ㅇ Contribution to the development

of Koreans (Presentation and

evaluation)
- Testimonials, Presentation off

willingness to put into practice,

Evaluation and Suggestions.




ㅇ Finding Korean Identity (Exploring

and experiencing)
- Experiencing Korean and Korean

culture, visiting historical sites and

major facilities to understand

Korean culture
ㅇ Developing global leadership

(Debate and education)
- Discussion on global citizenship,

environment, unification, etc.
ㅇ Understanding Koreans (Connecting and meeting)
- Exchange with Korean students

and next generation leaders,

Volunteer activity




II Application and Selection Method

1. Number of Participants
ㅇ OKFriends HomeComing Teens : 680 people
- 1st (7.17~7.23) : 370 people (including 51 adoptees)
- 2nd (7.31~8.6) : 310 people (including 34 adoptees)
ㅇ OKFriends HomeComing Youth : 350 people (including 45 adoptees)

2. Qualifications
ㅇ Among Overseas Koreans Middle/High School and University students
- Overseas Koreans who resided legally overseas for 5 years or more
‧ National Citizens, Permanent Residents, Korean National, Adoptees and adoptee' child,
Children of Multi-Cultural Families
‧ Descendants of Independence Patriot, CIS Korean(Goryeoin), Chinese Korean, etc
‧ Students who are willing to contribute to the Overseas Korean community and have
outstanding achievements in volunteer service for the Korean society
‧ Must be in good physical and mental health to fully participate in the program
‧ Must not be involved in conflicts with the Immigration control laws of the residing
country.

3. Application Method
ㅇ Visit www.korean.net, make an account and apply.

4. Selection Process
ㅇ Among those who have submitted all required documents, we will consider
- Self-Introductory Letter, Reason of Application(check it agrees with the programs
objectives)
- Community and service record in the community in country of residence (Reference)
- Recommendation from the Korean Consulate General in residing country (Reference)
- Other information decided through the selection process

5. Criteria Selection
ㅇ Students who write their self-introductory letter and reason of application with
motivation
ㅇ Students with skillful comprehension and use of Korean
ㅇ Students excelling in different categories
ㅇ Students who have received awards in academic fields and other extracurricular
activities
ㅇ Students who have completed considerable amounts of community service.

6. Application Process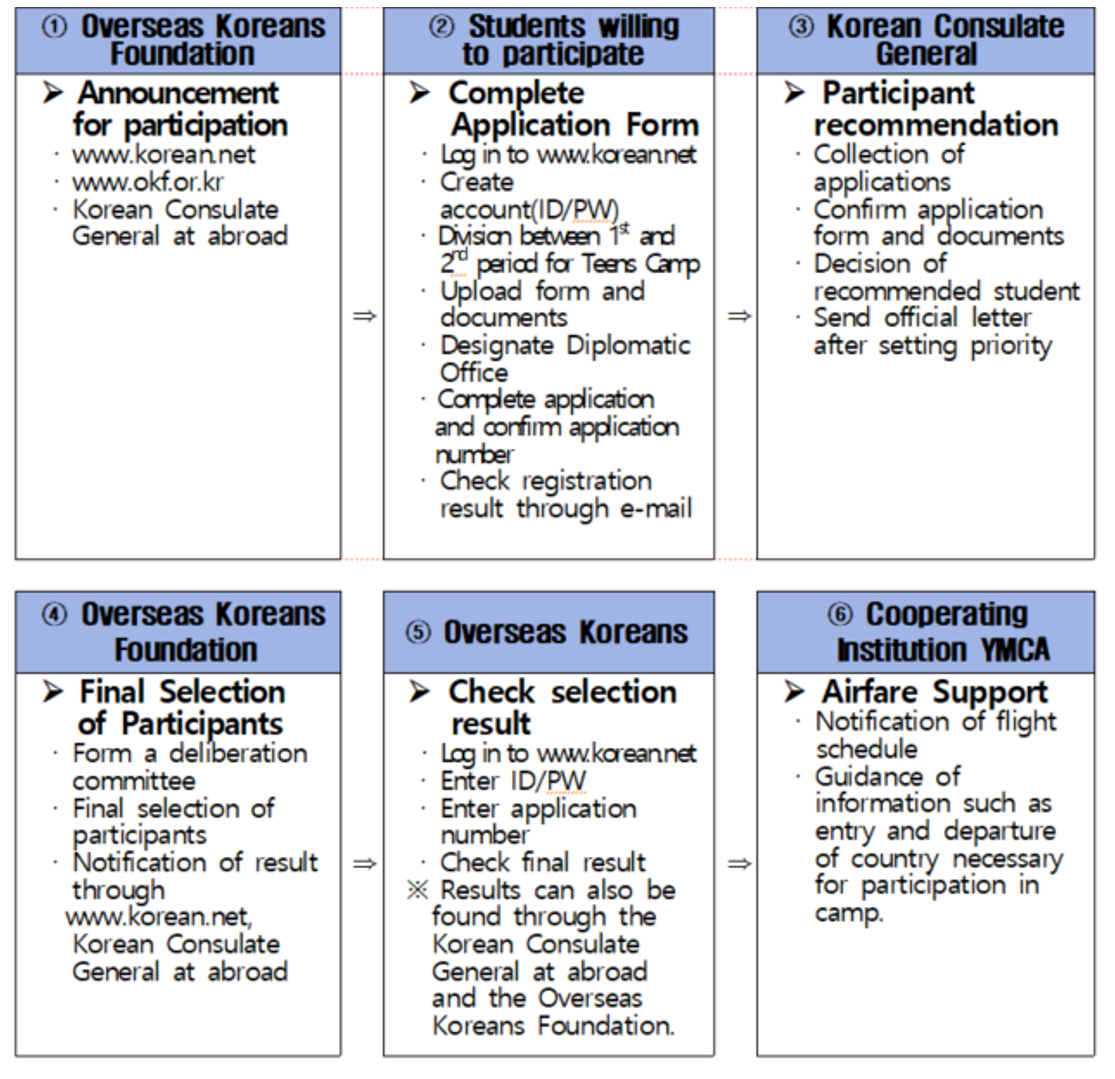 7. Selection Exclusion
ㅇ In case that the student is treated due to weak neuropsychiatry and might cause shock,
seizure or any abnormal behavior during the event
ㅇ Students who require special attention because of severe allergies, seizures, and shocks
caused by certain foods
※ 5% of total participants will consist of students who have already participated in this
camp within the past three years

Ⅲ Support Content

1. Airfare
ㅇ 50% of the airfare (round-trip and economy class) to all participants
- For Mexican/Cuban-Korean Descendants, Korean adoptees & Adoptee' child, 100% of
the Airfare is provided. (The cooperating institution YMCA will buy the ticket and send
it, process will be later announced to participants).
ㅇ Principles of Airfare Support
- Airfare Provision is only applicable if the ticket was purchased for the purpose of
attending this program.
- The airfare is supported when the participant departs from the residence area. However, if departing from other areas outside of your residence due to your personal
circumstances, support airfare will apply based on your local residence airfare (if
departing from other area is more expensive than the local area airfare).
‧ Ex) Residing country: Japan + Departing country: United States ⇒ Airfares will be
supported based on airfare from Japan
‧ Ex) Residing country: United States + Departing country: Japan ⇒ Airfares will be
supported based on airfare from Japan

2. Meals and Accommodations are provided ※only during the program dates

3. Medical Insurance (Traveler's Insurance) Subscription is provided
※only during the program dates

Ⅳ Application Process and Result Notification

1. Application and submission
A. Application deadline (Korean Time)
ㅇ Period : Submitted Before Monday April 1, 2019
ㅇ Korean Consulate General Revision : Recommendations submitted by Friday April 12,
2019
ㅇ Participant selection and result notification : Announced before Friday April 26, 2019
through www.korean.net

B. Documents to be Submitted
ㅇ Required Documents(Write in Korean or English directly on the online application form)
① Application Form, Permission to request personal information and consent to use
② Self-Introductory Letter (Written in English or Korean)
※ Must write place of Birth and Period of time living abroad
③ Certificate of Enrollment or Admission letter (Upload directly to the online application
form)
ㅇ Optional Documents(Upload directly to the online application form)
① Special Skills, Awards (Copy)
② Recommendation Letter (Principal, Counselor)
※ Participants must visit the Overseas Koreans Foundation website (www.korean.net) to
upload and submit all required application forms and documents.
※ Email, phone number, and contact information must be accurate (Notification of
selection results, announcements including schedule and program information will be
frequently send via email)
※ Must write an emergency contact and a Korean contact number

C. Application Process (Check appendix for details)

2. Results and Further Questions

ㅇ Will be announced through Overseas Koreans Foundation website www.korean.net, on
April 26, 2019 and Participants will be notified individually. Results can be checked in
the Korean Consulate General or Overseas Koreans Foundation Future Generations
Department
① 2019 OKFriends HomeComing Teens Camp
- Jeong Hye Kim (Department Manager) Future Generations Department (+82-2-3415-
0176, jheakim@okf.or.kr)
② 2019 OKFriends HomeComing Youth Camp
- Hyun Jin Park (Manager) Future Generations Department (+82-64-786-0273,
jinpark@okf.or.kr)
③ Application System Manager
- Seong Hyun Min (Asst. Manager) E-Global Korean Department (+82-2-3415-0055,
pms01@okf.or.kr).

붙임1.2019_재외동포중고생대학생모국연수_참가자_모집공고(ENG).hwp
붙임2.2019_재외동포중고생대학생모국연수_참가자_모집공고(ENG).pdf
붙임3.온라인_신청시스템_사용방법_개인용(ENG).ppt
붙임4.온라인_신청시스템_사용방법_개인용(ENG).pdf