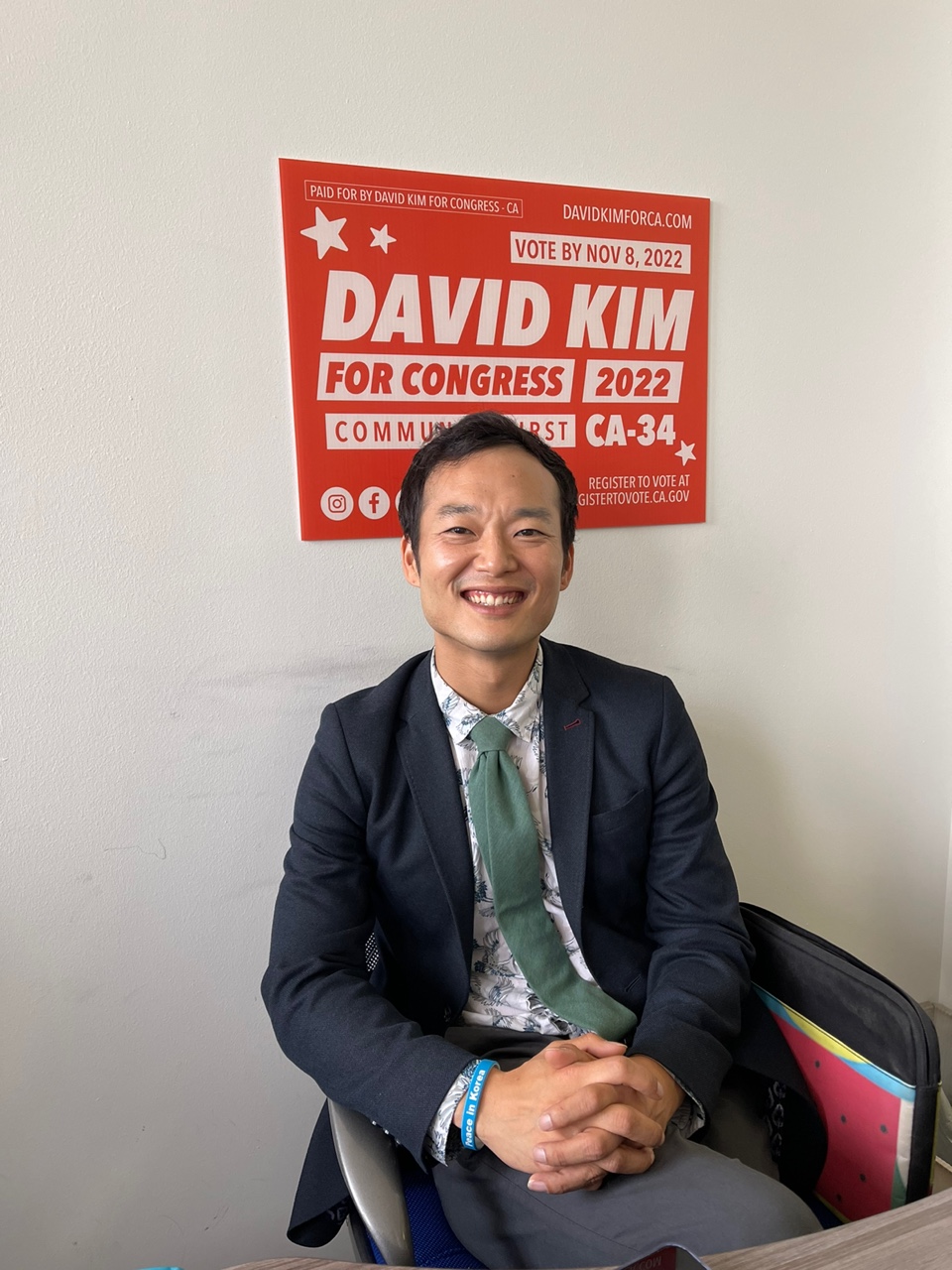 With David Kim inside His Election Campaign Office
I met with David Kim, the Democratic candidate who ran for California's 34th District in the general election on November 8. Due to the diversity inside America's election system, the results remain unknown for some time. As of November 24, David Kim received 48.75% of the 95% votes that had been confirmed, meaning he received approval from 59,025 voters. He is about 2.5% away from Jimmy Gomez, who received 51.25% of the confirmed votes, a total of 62,049 voters. Kim also faced Congressman Gomez in the last election in 2020, but lost with a 6% difference. The current election results are not looking so bright either, but the traces of his life was beautiful enough to resonate with mainstream American society as well as the Korean community. It is unclear whether he will run for office again two years later, but I post this interview to remember his qualities as a leader that I found in him. The interview was done in Korean, and I would like to give him a round of applause for his perfect Korean language and keeping a Korean identity despite being a second-generation immigrant who was born and raised in the United States.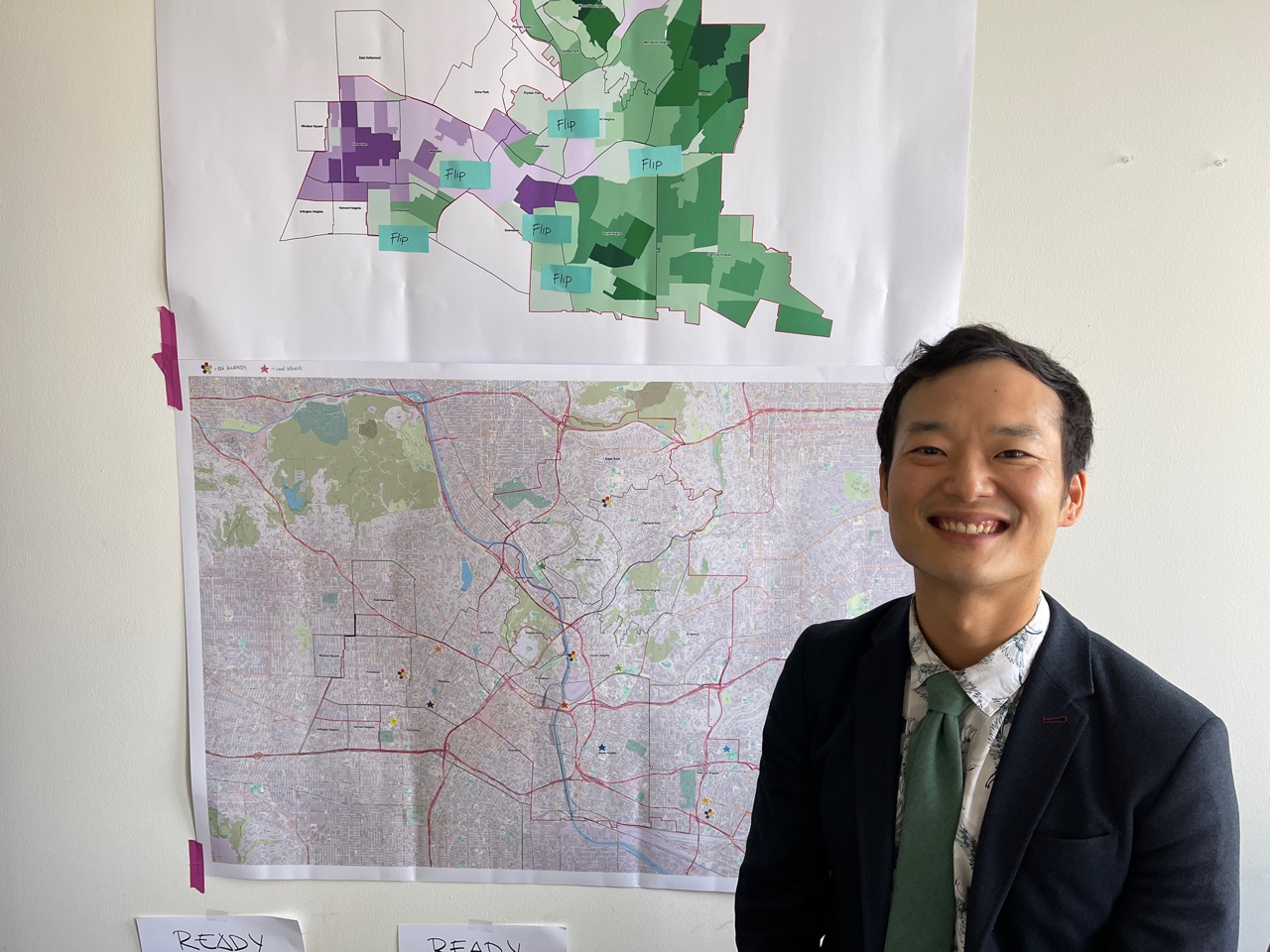 With David Kim inside His Election Campaign Office
Please introduce yourself.
I am David Kim, and my Korean name is Kim Young-ho. It's a name you would often find in old Korean textbooks. I turned 38 this year.

My father was a pastor and in 1983 my family immigrated to the State of Arizona, the place in which I was born. When I was five, we moved to Takoma, Washington, and lived there for 11 years. When I turned 16, we moved again to Northern California. My parents started a church there, and I went on to the UC Berkeley to study history.

After graduating and working for a year, I moved to New York to enter the law school in Yeshiva University. On my third year, I graduated law school and replaced myself to Los Angeles in 2010. My first job as an attorney was in the Los Angeles County District Attorney's Office.

After that, I built my career around being a lawyer in the fields of labor laws and music entertainment. I worked for Korean musicians who wanted to feature themselves in America, such as Ailee, BMK, and artists from JYP, and I also had a job as Sony Entertainment's legal advisor. After leaving Sony, I took a 180 degree turn and took the path of immigration lawsuit services.
How did you get into politics?
Until I left Sony, I worked to protect the copyright of prestigious entertainment companies. But after I changed my career path to being an immigration attorney, I began to see a lot of people in desperate situations. I was also elected as the president of the MacArthur Park Town Hall around that time, which gave me an opportunity to witness the imbalance in legal services that the underprivileged had to face. Even if they had an unfair case against them, they couldn't hire a lawyer for themselves because they couldn't afford one. I worked as a public defender for the parents of the teenagers who were in poverty. Through my service I started to think to myself, "The government's system for the poorest in this country is far from being adequate. From now on, I should use my legal knowledge to help the members of the community who are in need."

In LA County, thousands of families are in extreme poverty. What's even more heartbreaking is that their poverty is passed down to their children. I couldn't see any lawyer talking about it. Lots of adopted children who became parents themselves lose their children due to poverty. No lawyer talks about them. To get rid of such imbalance and unfairness in the legal service and policies of this country, I ran for office in Congress two years ago, and I'm also running for the same spot this year.

Although the year 2020 was my first time of running for office, I did organize the election campaign for an Asian American Congress candidate before that. The candidate was a Filipino American Kenneth Majia, who ran for Congress in California's District 34 for the 2018 elections. He was only 26 years old back then, and I didn't know him that well before I started working for him. Around that time, I received a text message from his election campaign, which made me very curious. "What kind of a 26-year-old would challenge himself to run for Congress?" That was the thought I had. So, I called him myself and asked why he would run for Congress despite having little life experience. But after talking with him I realized the clear ideals he had, and he moved my heart. I went over to his office whenever I had time and volunteered to work for his election campaign.

90% of the voters in California's 34th District voted for the Democrats, but Majia participated in the elections as a member of the Green Party, which had support ratings below 1%. However, he managed to receive a total of 27% of votes. Can you imagine that? In the actual November elections, people who supported the Democrats didn't vote for their candidate but instead voted for a candidate from a party of which they were completely unaware of.
After the elections, I tried to cheer up Majia and said, "I'm sorry we couldn't win this time. In the next elections, you should become a candidate from the Democrats." But he answered, "I'm too tired to run as a candidate." What I had in mind was that someone must get into politics and work to seek justice in society. So I asked him if he would be okay with me running for a place in Congress. Fortunately, he supported me.

You have constantly shown us your concern for the underprivileged in our society. But you've worked as a lawyer after passing the bar in a prestigious law school. It is not easy for us to see how you could relate to the lives of those in need and empathize with their pain.

I also had a moment in my life where I couldn't find any work after graduating law school. Not everyone becomes a lawyer after graduating a law school, and a lot of the students are paying their student loans. Even I'm still paying my student loans.

Sometimes, I had to work without getting paid to prevent blank spaces in my CV. During those times in my life, I would make ends meet by driving car-sharing service vehicles for seven hours after work from 8 PM to 3 AM, including Uber, Lift, and Postmates. After that, I would sleep for about three hours before getting back to my attorney office. I lived like that for two years. That's how I was able to pay for groceries and even donate.

Currently, renting an apartment with one bedroom in LA costs around 2,000 dollars. Fortunately, I have a master's degree, so I'm better off than others in terms of job opportunities and wages. But what about the people without secondary education? Will they be able to pay 2,000 dollars of rent with an hourly wage of 15 dollars?

California's 34th District that I'm running for office holds the 20th place in the order of the federal districts with the most population suffering from poverty, and it has the highest number in California. In this district, it's easy to find several families leasing a single apartment with one bedroom living together. I realized the reality after I started working as an attorney in juvenile and immigration laws and doing voluntary services in related fields.

When I was moving to Los Angeles, my mother gave me 5,000 dollars to set up an office for myself. So, with the tiny support from my mother, I worked hard seven days a week in the office I had for myself. But 5,000 dollars might be too much for some parents. I was one of the lucky ones who could get help from their parents.

Some of the voters in my district never had such a chance, and they can barely keep their heads above water even when they're have two or three jobs. Without fundamentally changing the government's system, their poverty might last over a hundred years. I was frustrated, and the thought of wanting to get rid of the unfairness in our society led me to the elections.
What are you up to now?
I'm putting all my effort into the election campaign. But if I lose the elections, I'll go back to being an attorney in juvenile and immigration laws again.

When did you start your campaign for the midterm elections?
I started around December 2021. Other candidates had fancy offices to run their campaigns, but I didn't have one until one of my supporters let me use a part of his office as my campaign office. I was very thankful and I've been using the area ever since.

Are you expecting to win in the elections?
When I first ran for the office two years ago, I barely had any support from the Korean community. Back then, Latin Americans, other Asian Americans, and Caucasian Americans that were all outside of the Korean community gave me a lot of votes. In the previous election, I lost by a very slight margin of only around 2,000 votes.

But what was inspiring for me is that the number of new voters increased by 50,000 in the last election. Also, around 25,000 voters from the younger generation and those in communities who didn't vote are expected to register for this election, which I believe will play a part in my victory. I heard that my competitor ran an internal survey and had a similar result.

How many people are helping you out with your election campaign? And which community are they usually from?
The ratio of Koreans and non-Koreans for the volunteers in my election campaign is about 50 to 50. Those from the Korean community who provide support are mostly senior citizens. I have a Kakao group chat with 51 members, and among them I have around 25 people who visit my office often. On the other hand, those from non-Korean communities are rather young. Their backgrounds are very diverse, ranging from Latin Americans, Asian Americans, African Americans to Caucasian Americans. Around 25 people from that side also visit my office every day to lend me a helping hand.
How did you raise your election funds?
I raised them through a fund raiser. But I initiated a grassroots fund raiser instead of receiving cash from big corporates. That was because I would have had no choice but to represent their interests if I took their money. I didn't receive a dime from big companies, but I could raise up to 210,000 dollars in just ten months. That is a surprising figure considering the fact that we're in the midterm elections. I ran for office during the presidential elections last time, but I only raised 180,000 dollars for 18 months. Back then I spent about 10,000 dollars a month, but now I'm spending around 20,000 dollars during the same period. That's quite a lot of money, but the figures are nothing compared to my competitor Jimmy Gomez.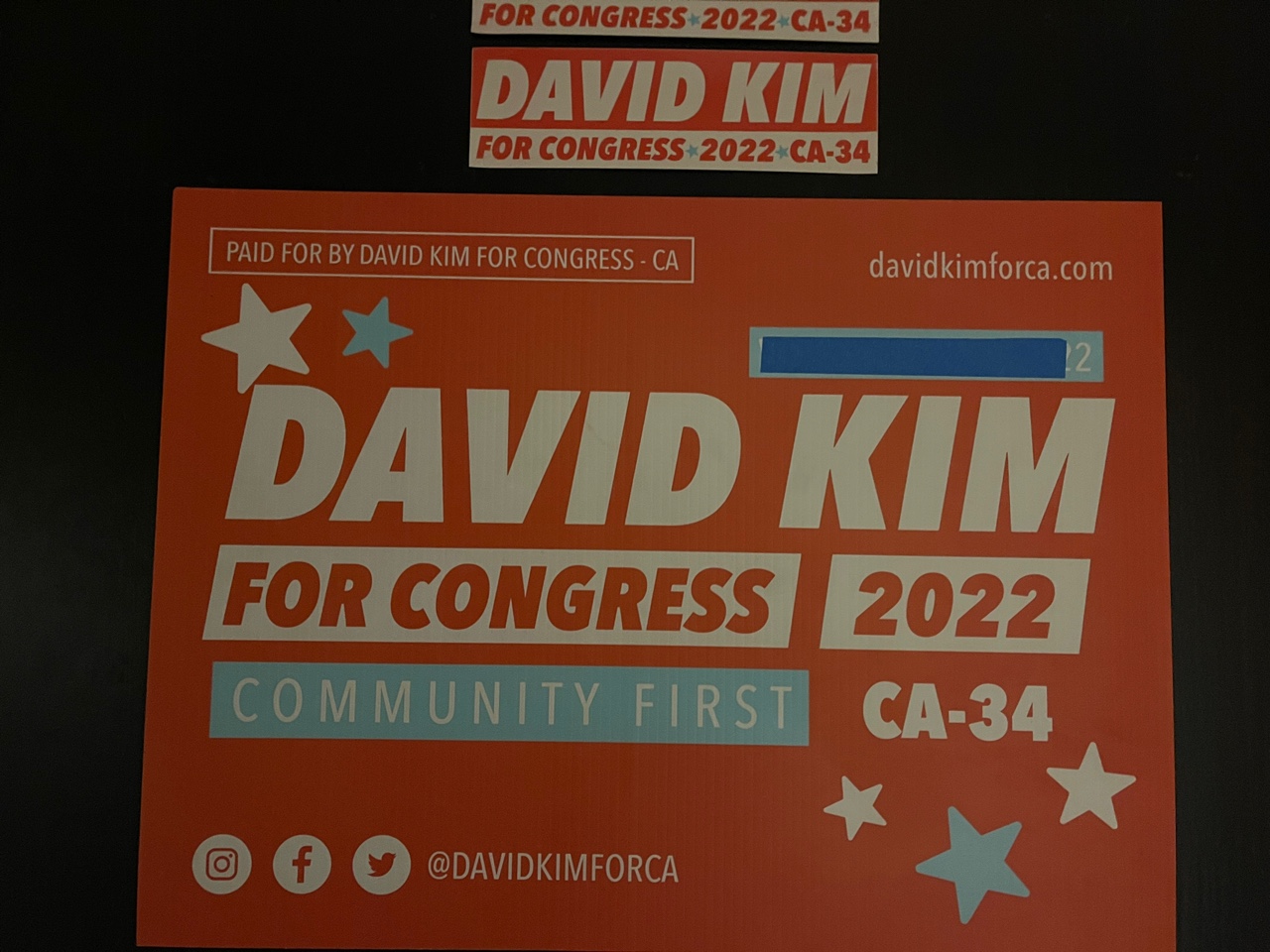 David Kim's promotional campaign material
How are you running your election campaign?
We advertised by purchasing 13 large billboards around the area, and we also put our ads in the Spanish newspaper as well as Korean radio and paper. Also, we used the phone banking system to send direct calls or text messages to our voters and encouraged them to vote. On Saturdays and Sundays, we made door-to-door visits to each household in our area with our volunteers, meeting over 1,000 people to deliver our election material and ask for their support. We are promoting our campaign through social media and the Internet as well. Two weeks before the election, we sent letters with our Korean volunteers to ask for support.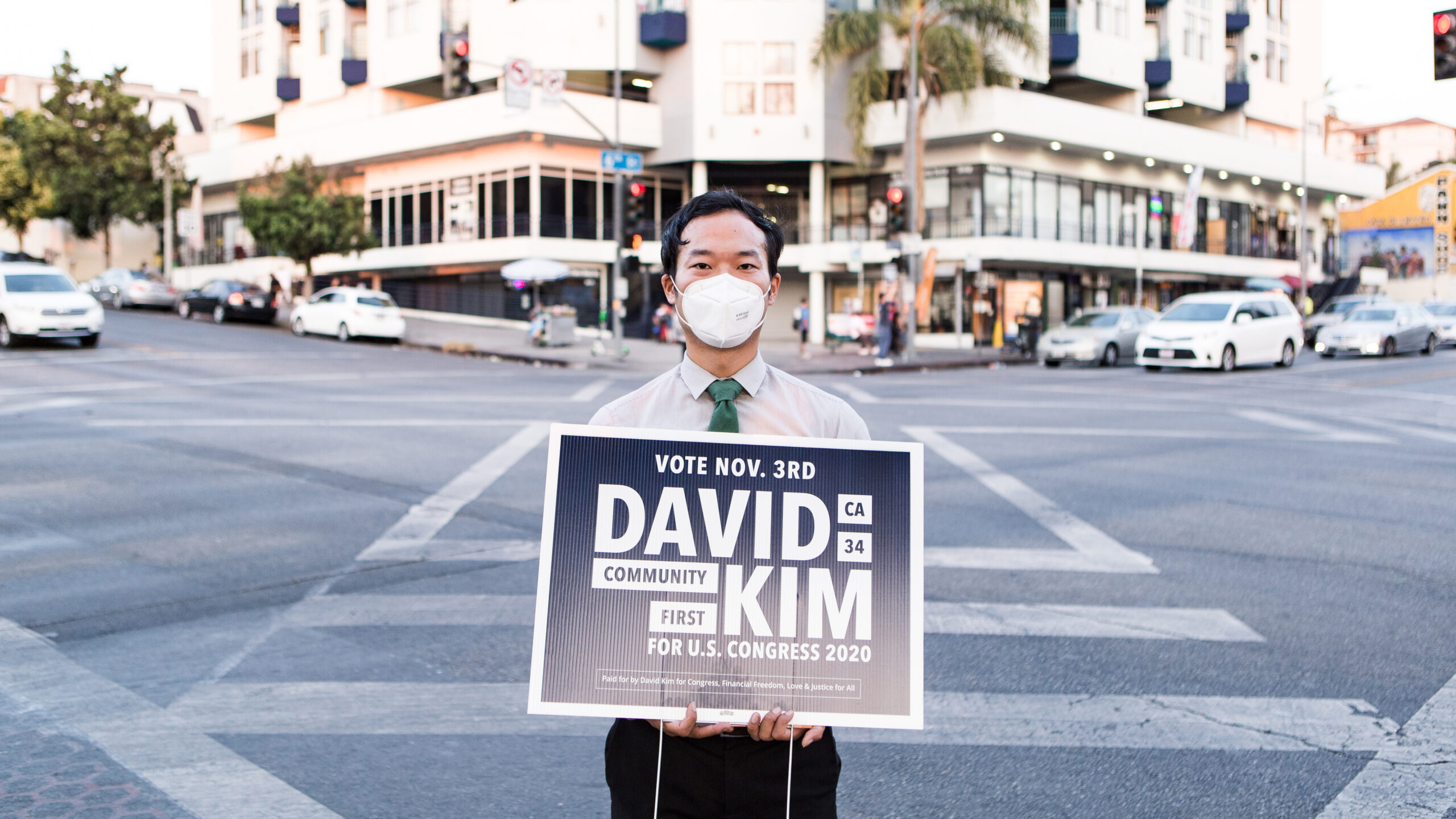 David Kim is running an election campaign in his district
What are your leading election pledges?
My first pledge is that I will make open conversation and communication possible for the residents of the area. The current congressman, Jimmy Gomez, doesn't open his office to the public. Citizens don't have the chance to visit him in his office hours. He also notifies the small meeting at the town hall just two days before the event. So many voters in our area have several jobs, working night and day, so how could they participate in a meeting that is announced only two days before? If they don't RSVP before 12 hours before the event, voters can't even get the link for the online meeting. Even if they can be in the meeting, the place has no room for asking spontaneous questions as all questions are screened beforehand. Only five of the questions can be answered. Such method cannot be seen as a true form of communication.

Alexandria Ocasio-Cortez, the congresswoman of New York's 14th Congressional District has a meeting with her voters every month, and the notifications of the meetings are made with adequate periods beforehand. In the meetings, she would sit down for ages until the residents ask her the last question.

Our district needs a person like her as well, someone who knows how to communicate properly. If I get elected, I will have meetings with the residents every month. I'll create a period called 'Drop in Hours,' for voters to feel free and come along to my office whenever they want.

Meanwhile, Karen Bass, the congresswoman running for mayor, has a constituent caucus (residents group) formed in her district. A caucus is a group of residents who express their opinions and wishes concerning the legislation in Washington D.C whenever they like to their congressperson. This method is a great way for residents to pay attention to legislations. When I get elected, I am going to have focused conversation with voters by creating a similar organization.

My second pledge is that I will include a wide range of other languages to the federal government's resources, including Korean. Lots of documents of city and state government can be read in Korean now, but the federal government is somewhat lacking in such areas. That is why I wish to make an effort in featuring Korean and other various languages in the documents of the federal government. I'll also prepare workshops more often for voters in Los Angeles so they can find out how to sign up to federal programs and receive benefits.

My third pledge is that I will reach out and provide help to Korean Americans who run small businesses. There has been a support fund for small businesses during the pandemic, but results showed that California's 34th Congressional District has received the lowest amount in the state. Immigrants take up more than half of the population in this area, having a larger number than Caucasians. If we cannot provide support for them to run their small businesses better, our region will become poorer and poorer. I believe we must have a federal-level program to help them out. I plan to create a hot line for owners of small businesses and arrange an exclusive loan program for them if I win the election.

My fourth pledge is to create spaces and programs for teenagers and senior citizens.

My fifth pledge is to concentrate on figuring out ways to help the residents in this region who are struggling to make ends meet. I always think about how we could build a better government to provide basic income and health insurance for those who have nothing in their hands.

We heard that you featured in the documentary "Chosen" that started to air from early November in Korea.
Yes. Jeon Hoo-seok, who directed the film "Choseon," used to be a lawyer. I got to know him because I was a lawyer as well, but we only met once before the film. Time passed, and he contacted me after he saw me running for the federal congress in 2020 on social media. There were five Korean American candidates in the elections, and he wanted to follow them and create a documentary on their election campaign activities and their daily lives. I told him that I was okay with that, but I completely forgot about it even after saying yes. I guess I didn't think of the film as a big deal back then. But three weeks later, he called me and asked if he could join my campaign team and film our activities. I let him do that. Director Jeon originally lived in New York, but he was out in Korea during the pandemic.

He filmed all five candidates and recorded their campaigns, and after watching the movie I found out that I took up the largest part of his film. About half of the whole documentary was about me. I guess that was because our team let him follow the campaign around more than other candidates. The other half was about the other four candidates. Even the poster for his film had my face at the center, so I asked him, "Come on, why would you put my face on the center? I was the one who lost the election!"

I saw "Choseon" seven times, and I think it is a well-made documentary that features the raw moments of our campaign. I heard all the other candidates who were featured in the documentary saw the film too.
How will you make your move after the results of the election come out?
If I win the election, I will immediately participate in the orientation for new federal congress members, fly over to Washington D.C., and settle there. After that, my plan is to come down to my district once a month to communicate with the residents. If I lose, I will go back to what I've been doing, which is being an attorney of juvenile and immigration laws.

Your work as a lawyer as well as the election campaign must cause a lot of stress. How do you deal with that?
I have trained myself in yoga and meditation for quite a long time, and I also pray a lot. When I'm alone with nobody around me, I sometimes move in a way that my body tells me to move while listening to music.

Do you like Korean food?
Of course. I like spicy food like stir-fried chicken and stir-fried squid. I also know how to cook, but I just can't find the time these days.

As of November 25, David Kim is 2.5% behind Jimmy Gomez. However, there is still a chance for Kim to overturn the current situation as the remaining votes are from postal ballots. Whatever the result may be, I will cheer for David Kim, not because he is a Korean American but because he is a man with a kind heart and an earnest soul.