New York and New Jersey are known to have over 300,000 Koreans, and the area is home to many Korean organizations. Among all those groups, the MINKWON Center For Community Action is known to the people around the region as a non-profit oragnization that does an excellent job. The center also drew recent public attention as it received 150,000-dollar worth of donation from the NBA star Jeremy Lin. It's time to find out the secret behind all the sensation for this organization.

The history of MinKwon Center began with Yoon Hang-bong (1947–2007), known to be the last wanted man for the May 18th Democratic Uprising, as he took the initiative to establish an organization called 'New York Young People's Education and Service Institute' in 1984.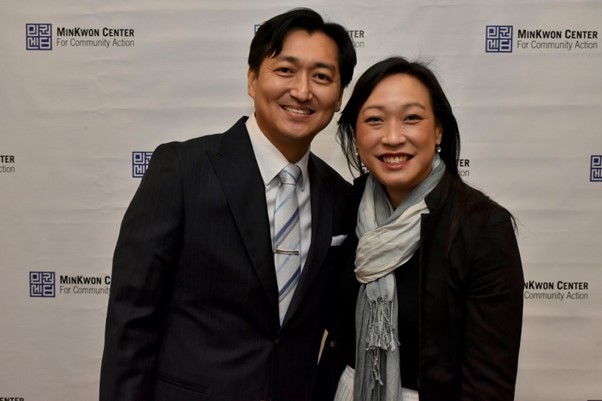 John Park, the Executive Director of MinKwon Center and New York City Council member Linda Lee (provided by MinKwon Center Facebook)
Currently, the board of directors consists of 11 members including Mr. Kang Byeong-ho, and the working group has over 10 members, including director Jonghun Kapsong Kim who has worked in the center since its foundation. As the center is located in New York, the organization also features Chinese community coordinators doing volunteer work to provide services for Chinese immigrants. MinKwon Center has been providing its services in New York, and the center is planned to expand by opening its branch in Palisades Park, New Jersey, an area with a large number of Korean residents, from December 2.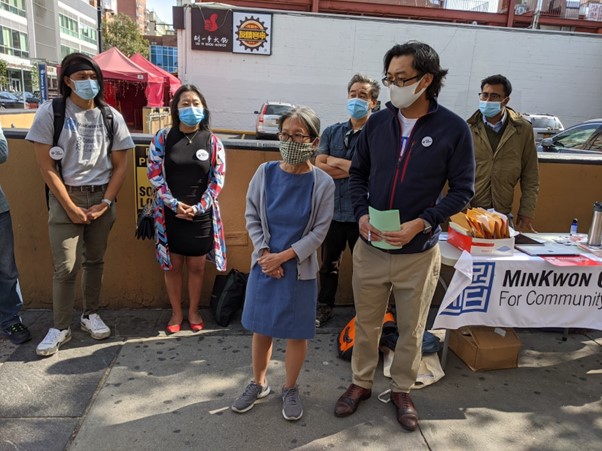 Statement on hate crime against Asians (provided by MinKwon Center Facebook)
The activities of MinKwon Center can be classified into five main areas.

First, the organization is working to protect the rights of immigrants and systematize their communities. The members of the center are passionate about working for those who do not have their documents fully prepared, as well as for the low-income class, new immigrants, and the members of the local community. In particular, the center is constantly developing policies to improve working class' living standards, and operates specific programs regularly.

Second, the organization takes part in enhancing political power and civil participation. For Asians living in New York and New Jersey, the center pressures federal congress members as well as local politicians to enact laws on the protection of Asians. Also, MinKwon Center encourages citizens to participate in voting by running relevant campaigns, such as making door-to-door visits and operating voting proposal movements during the election period.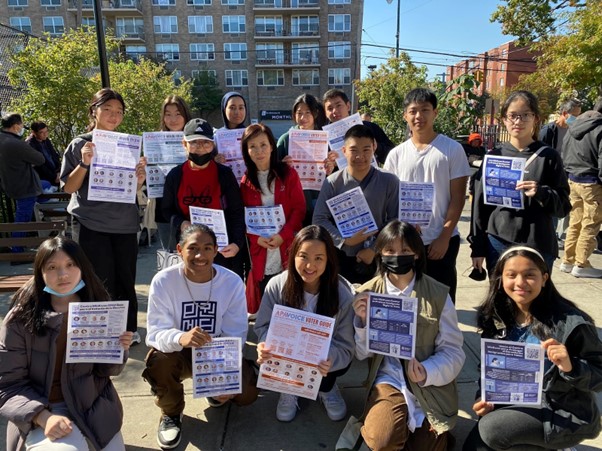 MinKwon Center volunteers encouraging to vote (provided by MinKwon Center Facebook)
Third, the organization takes part in volunteer work for the community. MinKwon Center's volunteer program provides a comprehensive financial and legal service for free to Korean and Chinese immigrants who lack English skills. The center comes running out to help those who might have their rights limited due to their language barriers. MinKwon Center also provides descriptions and advice on programs utilizing the COVID-19 hot line and legal references for tenants who experience rent issues. Furthermore, it has become a beacon of advice on unemployment benefits registrations and appeals as people started to solve relevant issues through MinKwon Center after the pandemic. It should be noted that the center also regularly operates an outreach civil service through external activities.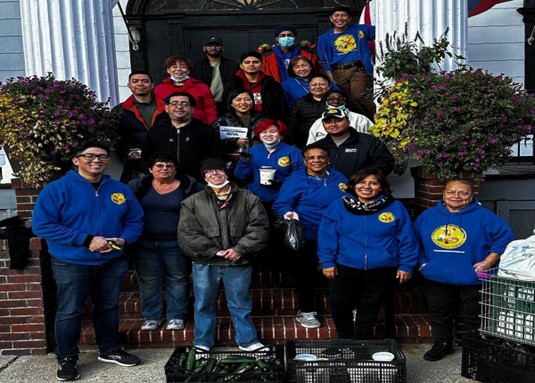 MinKwon Center volunteers giving free meals to the underprivileged (provided by: MinKwon Center Facebook)
Fourth, the organization works on building up future generations. The members of MinKwon Center emphasize discovering and fostering leaders of future generations for the community's development. To make it happen, the center provides various programs for youths to allow them to grow as the true activists for their community. The participants of the program will find the chance to enhance their companionship through new classes.

Fifth, the organization empowers the cultural sector. The 'New York Korean Cultural Group Binari,' which was founded in 1995, is at the center of cultural activities to introduce and spread Korean culture to the American society. In particular, the Pungmul Band shows outstanding performance in various Korean events in New York.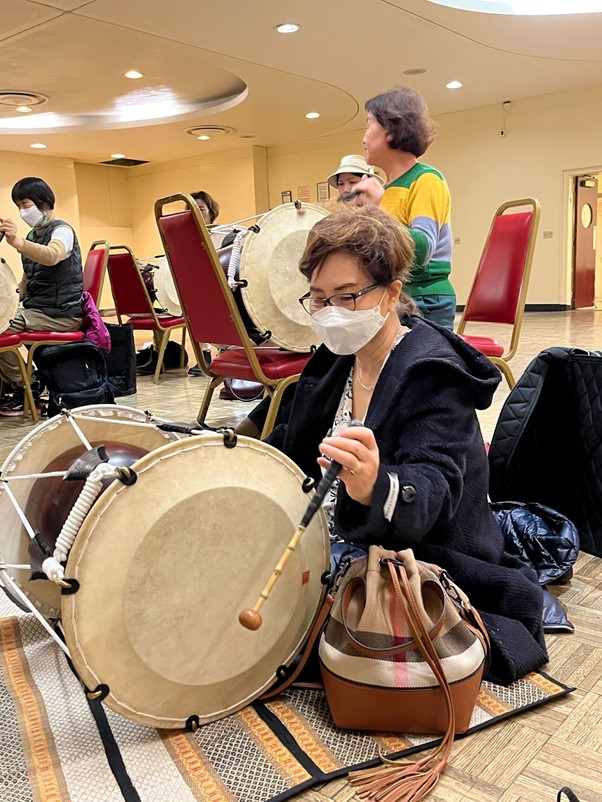 New York Korean Cultural Group Binari, practicing (provided by: MinKwon Center Facebook)
Also on the website of MinKwon Center (www.minkwon.org), immigrants can download Korean translations of useful resources.
The website has abundant information, such as guides on ways to respond to the Immigration and Customs Enforcement or the police for those without proper documents, information on new rents, heating and hot water issues, guides on the U.S. citizenship exam, programs on DACA (Deferred Action for Childhood Arrivals), and document writing methods.
The website also has ways to apply for unemployment benefits, list of documents for food stamp registration, and the information on candidates and their policies during election periods.

Unlike other organizations, MinKwon Center shows formidable group power and enthusiasm in external activities. In particular, the organization will go anywhere in the country to voice its opinion against anti-immigration policies.


MinKwon Center during its human rights activity (provided by: MinKwon Center Facebook)
Ellen Park, the congressperson for the State of New Jersey spoke very highly of the center, stating, "MinKwon Center is a precious place indispensable for Koreans who have difficulties with English," adding, "Early this year, the center participated in the joint production of a public service advertisement to prevent hate crimes against Asians, and the center now receives hate crime reports."

MinKwon Center sends a Korean newsletter to its subscribers every day through email, and provides Korean phone call services.

MinKwon Center's phone call service is like the beacon that gives hope to Korean immigrants, regardless of the results of problem-solving. The contact of MinKwon Center, where you can enjoy rich experience and all-free services, is shown below.
Address of MinKwon Center
New York branch: 133-29 41st Ave Suite 202 Flushing NY 11355
Contact: (917) 488-0325, (718) 460-5600

New Jersey branch: 316 Broad Ave 2nd Fl Palisades Park NJ 07650
Contact: (201) 546-4657

Email: minkwon@minkwon.org