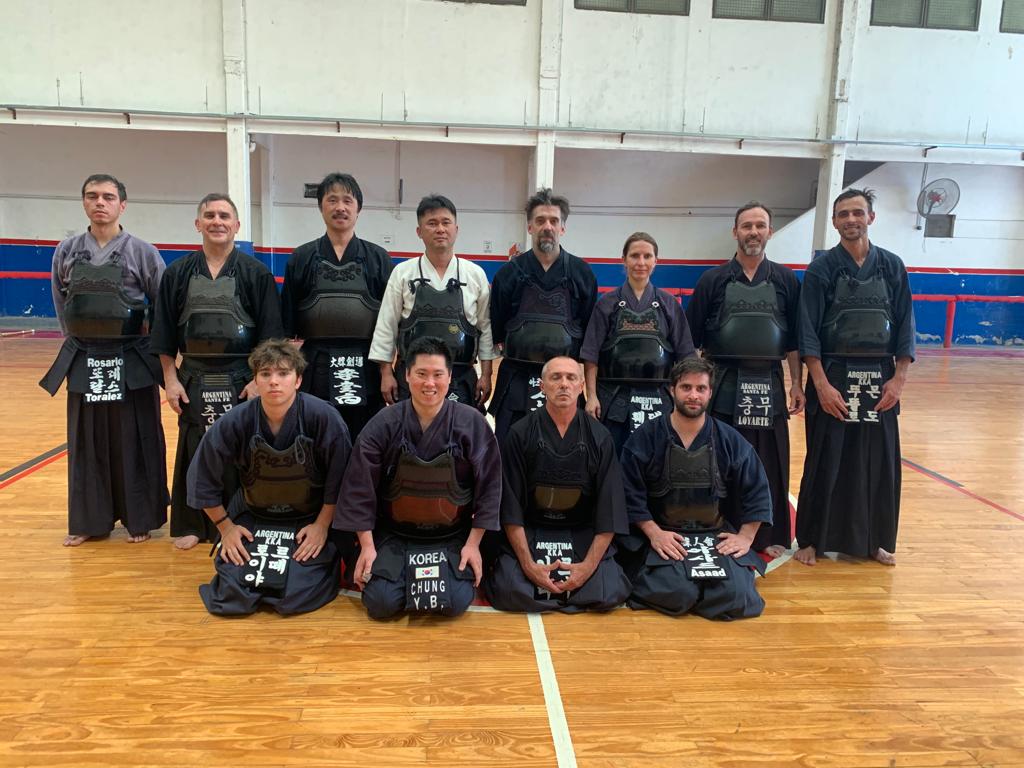 Master Jeong-won Seo from the Association Korea Kumdo in Argentina passed the first instructor rank and 7th dan fall test supervised by the Korea Kumdo Association on October 23, 2022. Only 25 out of 87 people moved up to the next dan. In particular, Master Seo drew attention by passing the 7th dan test as the first Korean in Latin America. We've met with Master Seo who has been walking the path of martial art for 35 years in Argentina with little to no recognition of Asian martial arts.

1. There are many Korea martial artists in Argentina. From taekwondo and judo to sipalki-do, karate and kumdo, you can find more Korean masters than Japanese masters. It's quite surprising to see a number of martial arts schools and students across the nation and that the Korean wave already existed here way before it began to spread in the late 2000s. The passion of Korean masters seems to stand out. What made you devote yourself to kumdo?
--- My uncle (8th Dan Master Byeong-yun Seo) is the vice chairman of the Korea Kumdo Association. He is proud that I, his nephew, am carrying on a reputation of Kumdo and training local leaders in Argentina. The main reason I started kumdo was to overcome racism in the local school after my family immigrated to Argentina. Kumdo in Argentina was maintained as a community sport by the overseas Japanese residents' association and most of the students were Japanese-Argentinians. I went to Korea and studied there for four years in the early 1990s to learn kumdo in depth. A TV series titled Sandglass (1995) was a huge hit and led to the rise in popularity of kumdo. Kumdo martial arts schools began to spring up here and there and that's when I wanted to go back to Argentina to follow my dream.

2. It must have been difficult to earn a living by running the kumbo martial arts school on your own. Many martial arts including sipalki-do, taekwondo, karate, and judo have been introduced to Argentina, but the economic condition of most masters is not so good. You probably held out with a sense of duty to keep martial arts. Was there any temptation?
--- I opened my kumdo martial arts school years ago and one of my students died from a virus in the brain. There was a rumor that the death was caused by kumdo because it moves the brain a lot. The number of students rapidly decreased and on top of that, the water pipes burst and filled my school with water. I had to scoop the water out with my bare hands. I was behind in a year and a half's worth of rent and I even got diabetes from stress. All I did was practice and I didn't know much of the world.

3. Were your parents or family ever against you?
--- My parents were worried that I was doing something nonsense in a foreign land and told me to come back. I even thought about going back. But I was not happy with the comfortable life in Korea. I made up my mind to carry on the spirit of martial arts that I taught my students. I started the business because I couldn't just belittle financial aspects and I learned martial art should go together with general people in life rather than being something cloistered and detached. I've given up on the aspiration of becoming the king or great master of kumdo in Argentina or living in wealth and honor through kumdo a long time ago. My only wish is to remain as a supportive master.

4. What did you learn as you spread martial arts including kumdo to the community in Argentina? And where is your focus on training young students?
--- It was great to interact with local politicians, business people, football players, and government officials purely through kumdo. It wouldn't have been possible without material arts. Martial arts create a bond between martial artists beyond race, nationality, or social status. I believe activities focusing on local Argentinians rather than Koreans or Japanese are more important to keep the essence of martial arts. Koreans here often quit kumdo if they find something else but many local people are fascinated by kumdo and devote themselves to kumdo at their own expense.

5. We heard that Argentina is the only county in South America to have a Korea Kumdo Association branch. How many of your students are active?
---- 5th Dan Master Jose Luis Zanotti is the executive director of the Association Korea Kumdo in Argentina and has about 30 to 40 students. Many pupils have learned from him. The Japanese residents' association teaches kumdo, but mainly JICA (Japan International Cooperation Agency) offers free public kumdo classes. On the other hand, the Korea Kumdo Association teaches kumdo at a cost through martial arts schools and therefore was outgunned. Nevertheless, I'm thankful that the efforts of the Korea Kumdo Association are bearing fruit.