November 22 is Kimchi Day.
The Kimchi Festival is where overseas Koreans engage in public diplomatic activities through kimchi.

People gather through a K-Kimchi flag to form a friendship with local residents and unite as one.
The cities that joined Kimchi diplomaticy for the globalization of K-kimchi are as follows:

Atlanta, Washington D.C., Michigan, Ho Chi Minh, Dalian, Tianjin, New Mexico, Auckland, Myanmar, California, Vancouver, Edmonton, Calgary, Frankfurt, Berlin, Hamburg, Sydney, Tokyo, Osaka, Manila, Kuwait, and Buenos Aires. 22 cities are participating.
○ Auckland, New Zealand

The festival was an opportunity to reaffirm that "Kimchi" has the potential to be infinite nongovernmental diplomacy.
Promoting "Kimchi Day" alone was enough to attract the attention of foreigners, not just Koreans.
More native than Koreans have participated and enjoyed the taste of kimchi.

The New Zealand festival also offered an opportunity to introduce Korea's sharing culture of cooking rice and eating it with kimchi for gimjang (*kimchi-making for the winter) and enjoy meals including bossam with participants.

The Kimchi Day event in Auckland, New Zealand ended by sharing kimchi and bossom with all participants.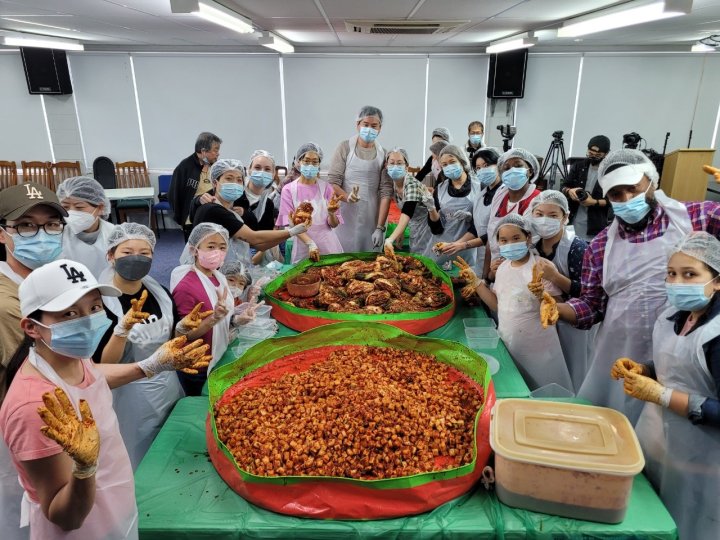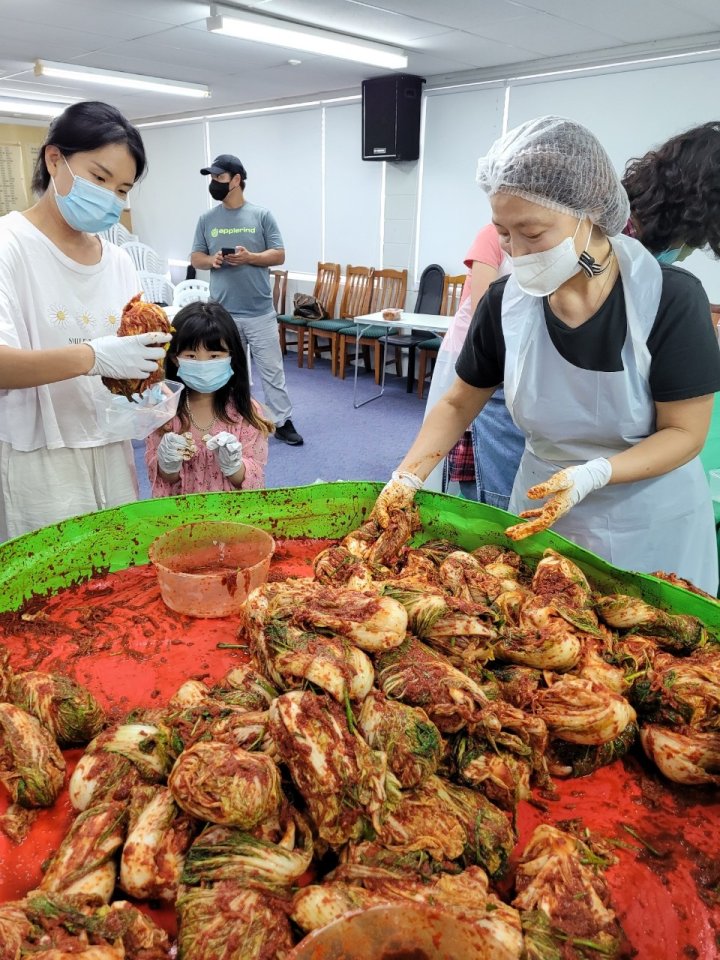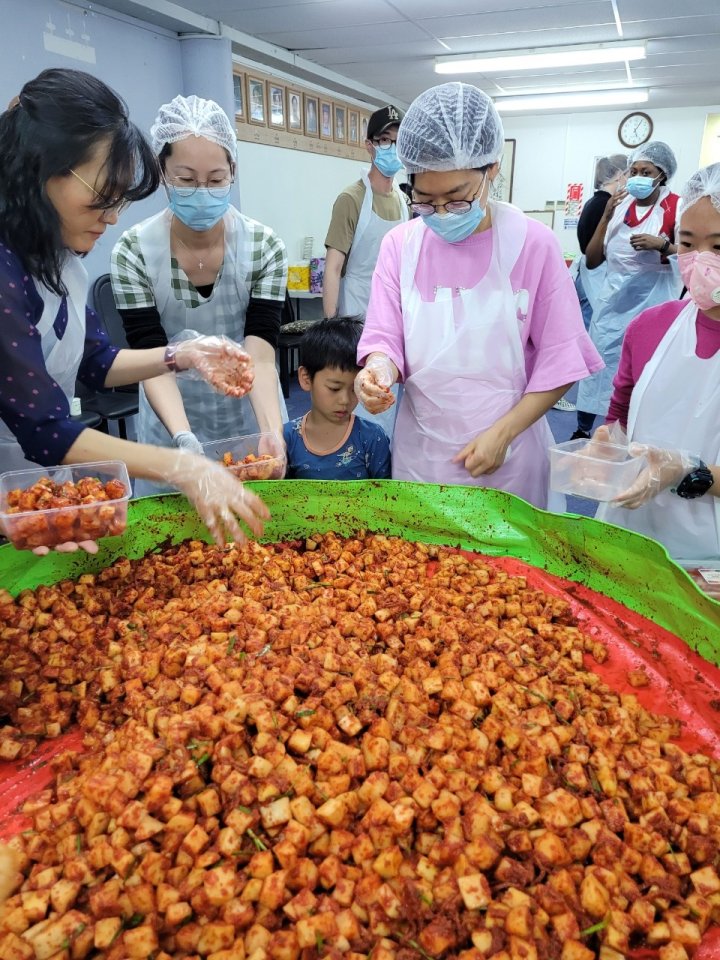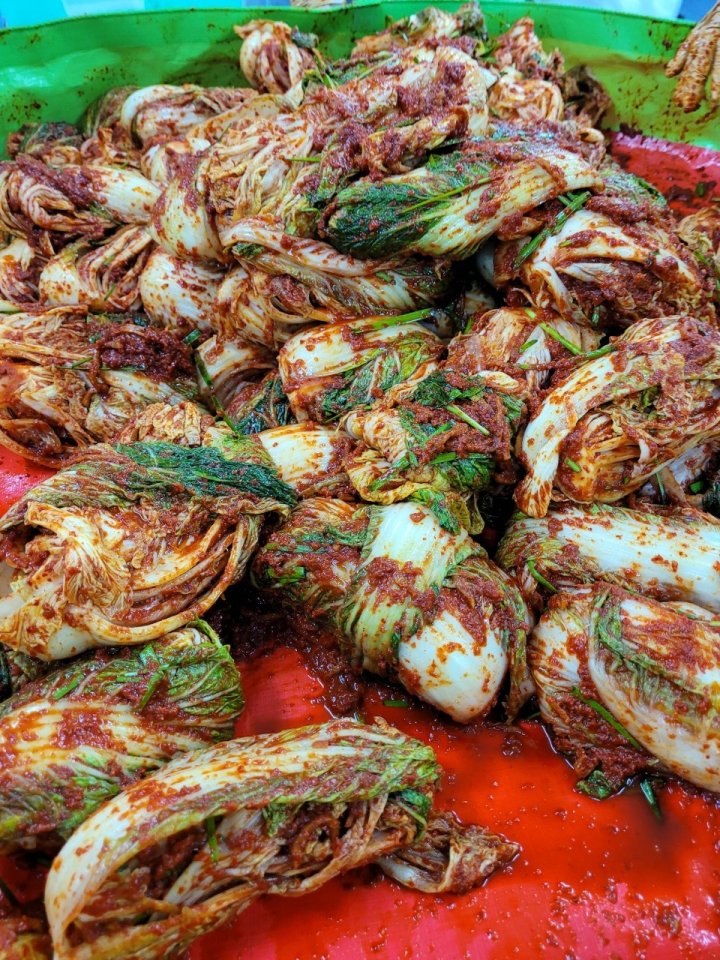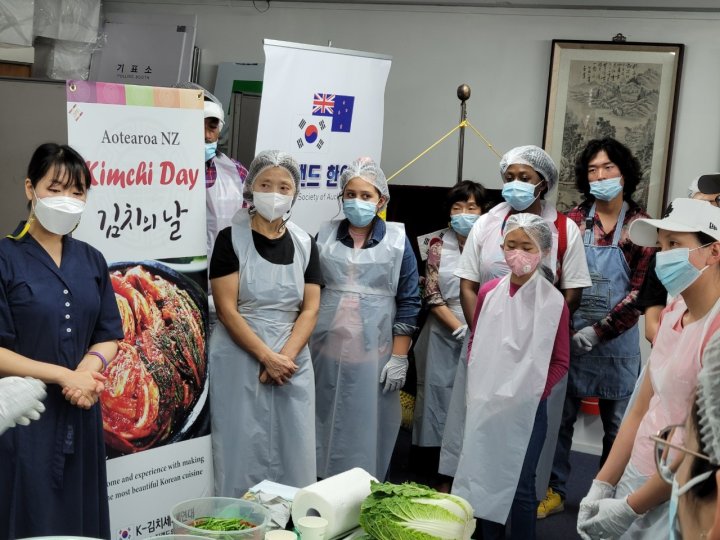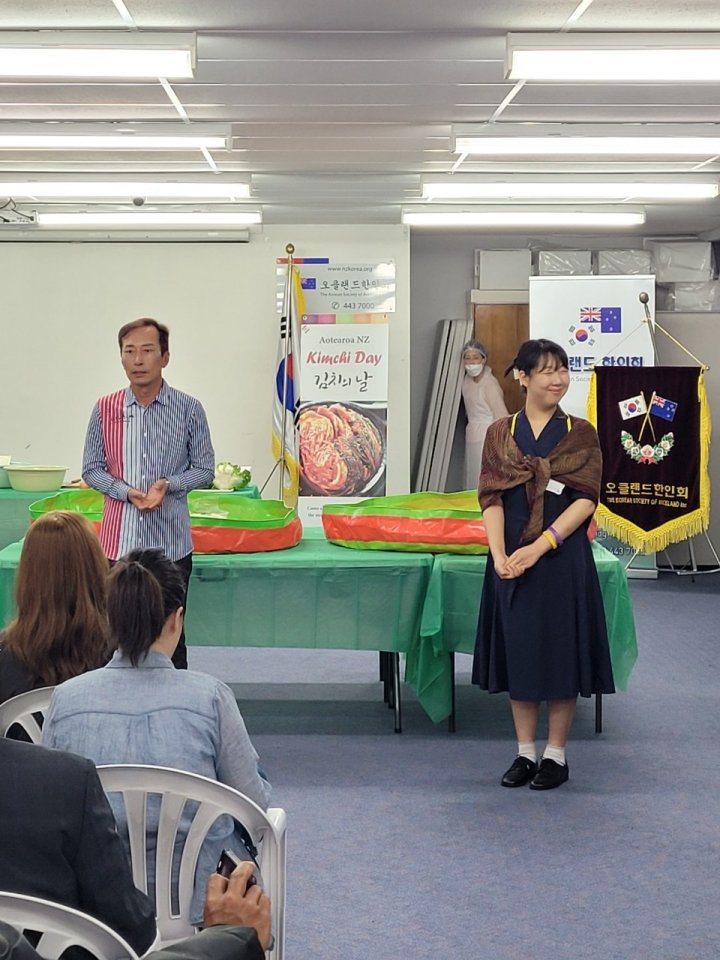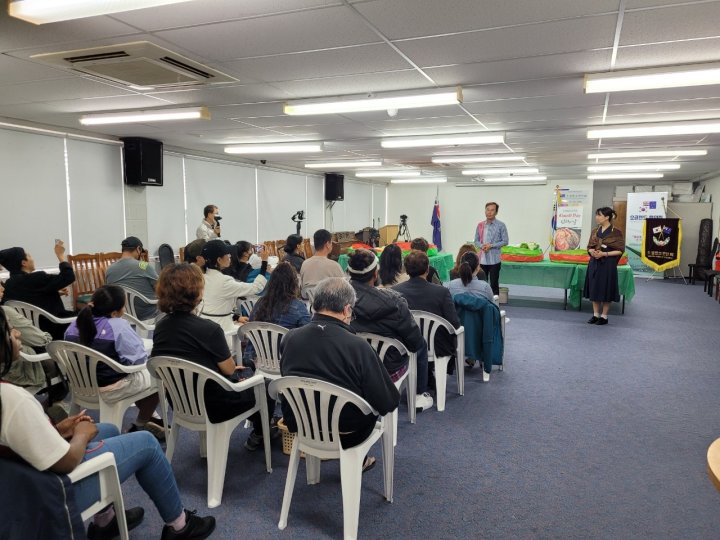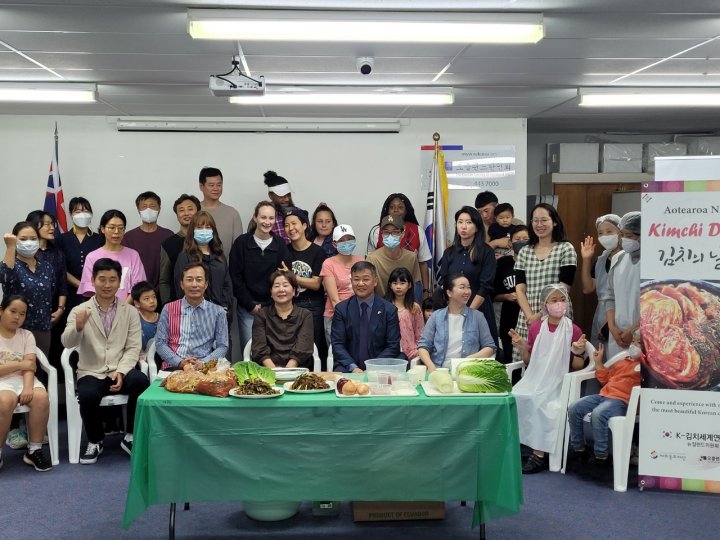 ○ Berlin, Germany
"Full of laughter... Hearty atmosphere" at the K-Kimchi Berlin Festival even in a cold snowfield
○ Frankfurt, Germany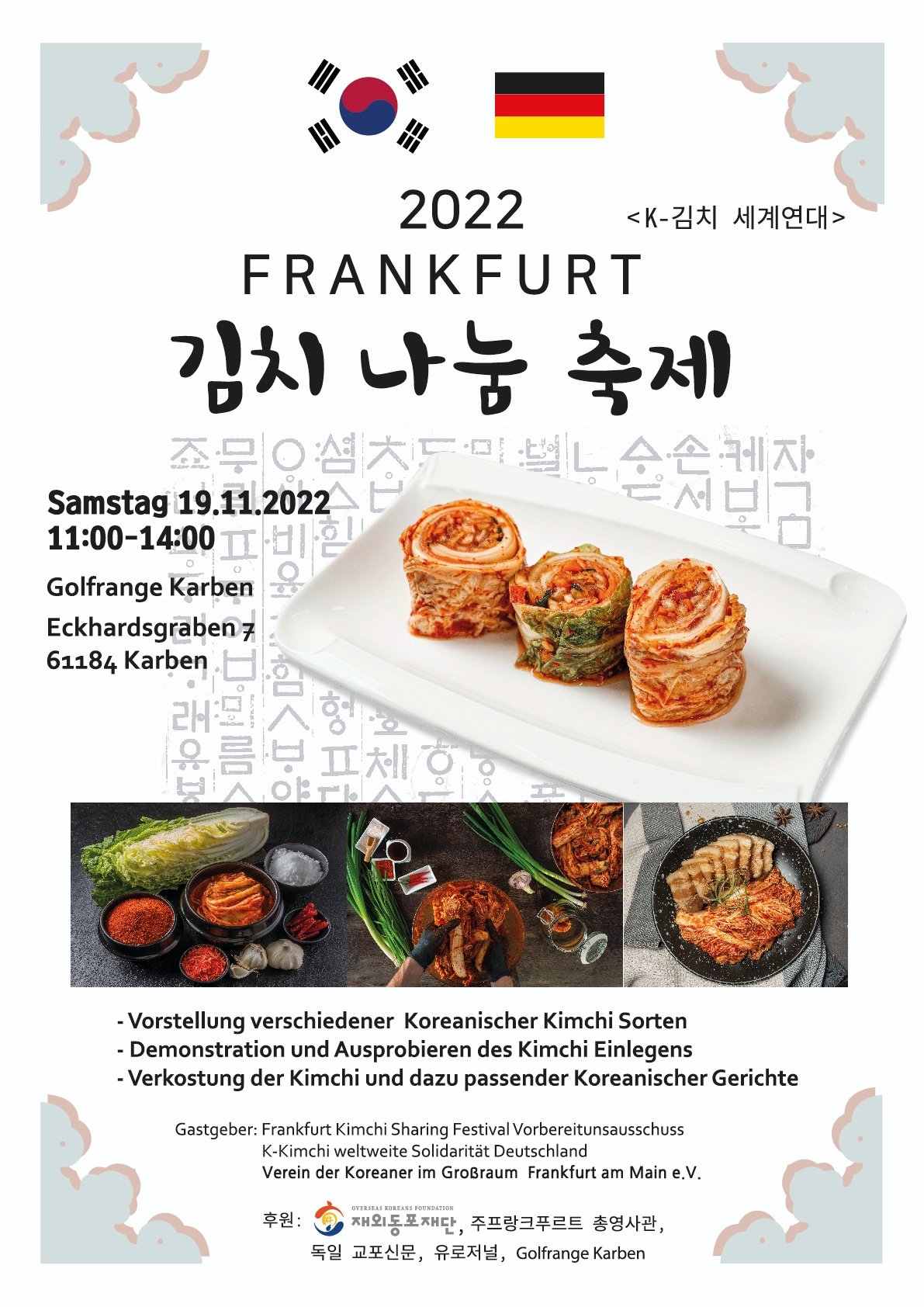 This large kimchi-sharing event prepared by the Frankfurt Korean Association invites local German people and mix salted cabbage with kimchi seasoning.
A large Korean flag and a German flag hung side by side represent the unification of nongovernmental kimchi diplomacy.
What a wonderful K-kimchi.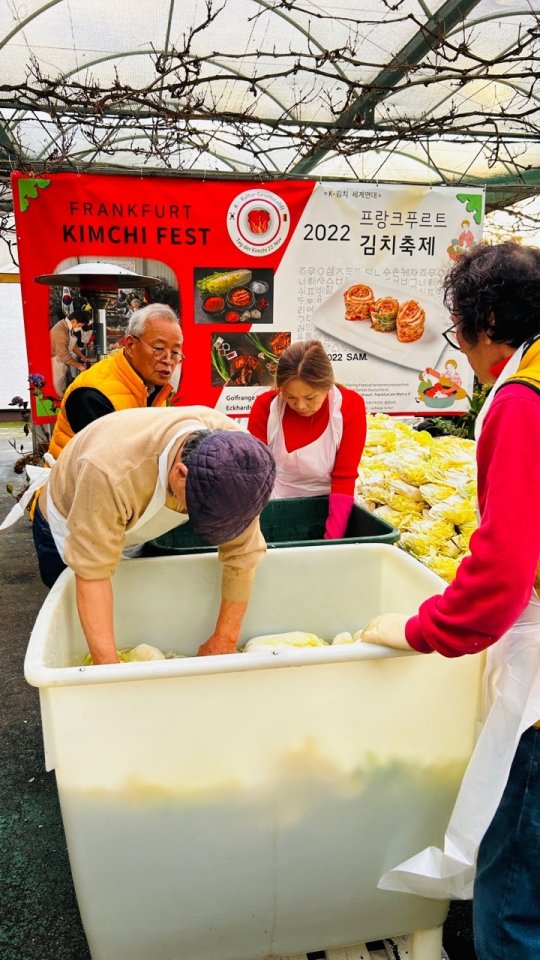 ○ Hamburg, Germany

It is a kimchi festival of local Germans.

The Hamburg Kimchi Festival was held on December 2 through <Korea-Germany collaboration>. Many locals participated in the event.

Cheers to the Hamburg Korean Association for successfully completing the kimchi diplomatic activities.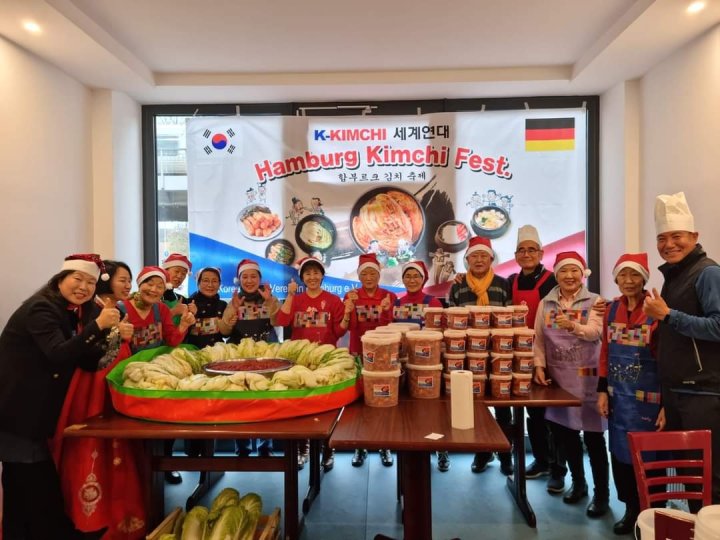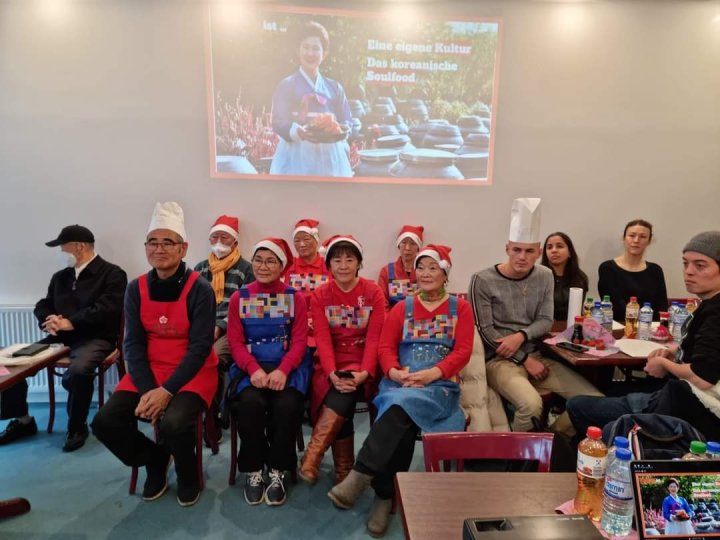 | | |
| --- | --- |
| | |
| | |
| | |
| | |
| | |
| | |
○ New Mexico, U.S.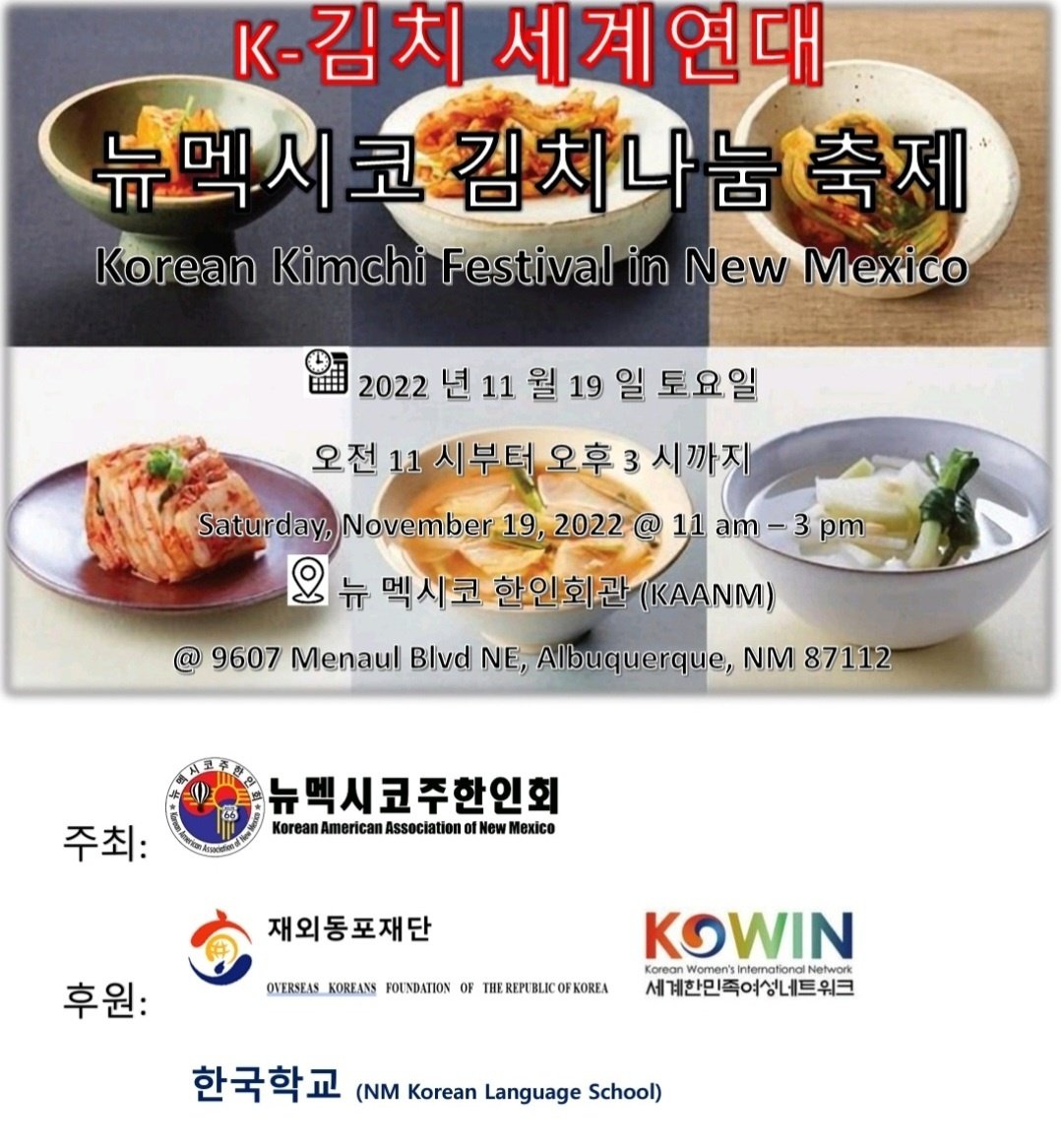 At the International K-Kimchi Festival hosted by the New Mexico Korean Association (President Tae-ja Yoon), visitors had an opportunity to taste nine different types of kimchi with rice including

onion kimchi, cabbage kimchi, red radish kimchi, kkakdugi, napa cabbage kimchi, backkimchi, nabak kimchi, green onion kimchi, and cucumber kimchi. Participants learned how to make napa cabbage kimchi and took the kimchi they made home.

Kimchi is becoming the global healthy food.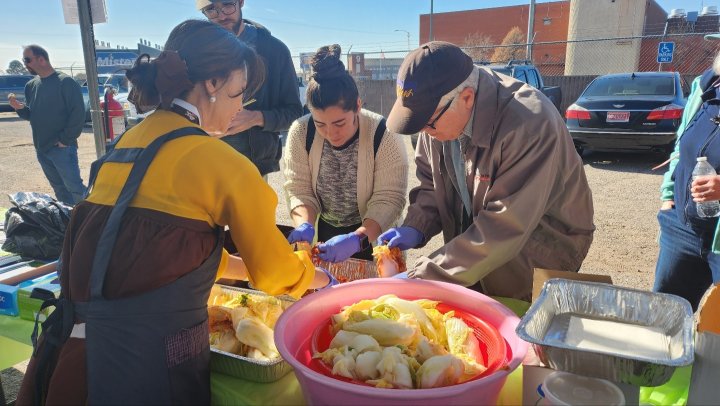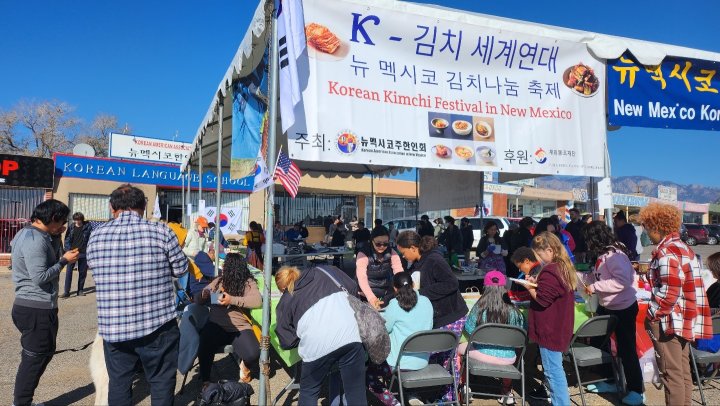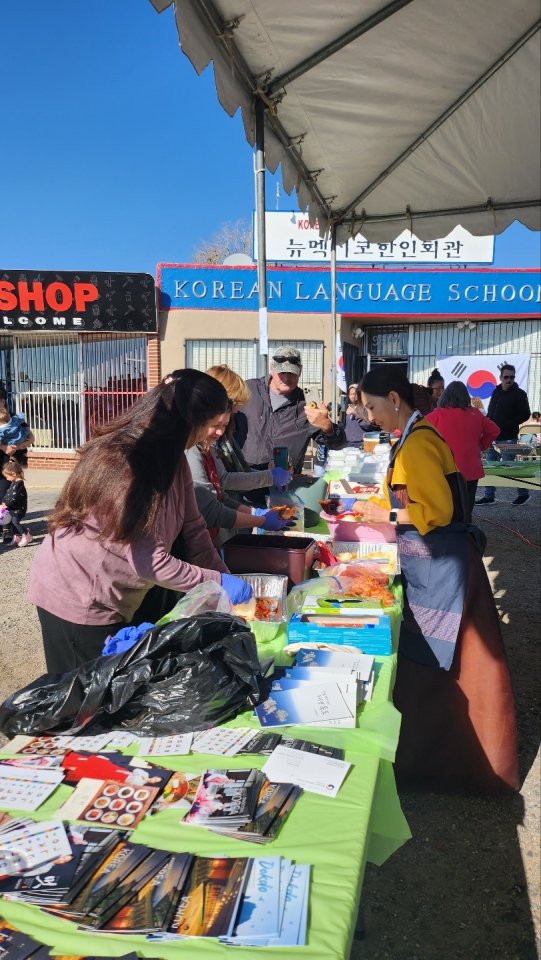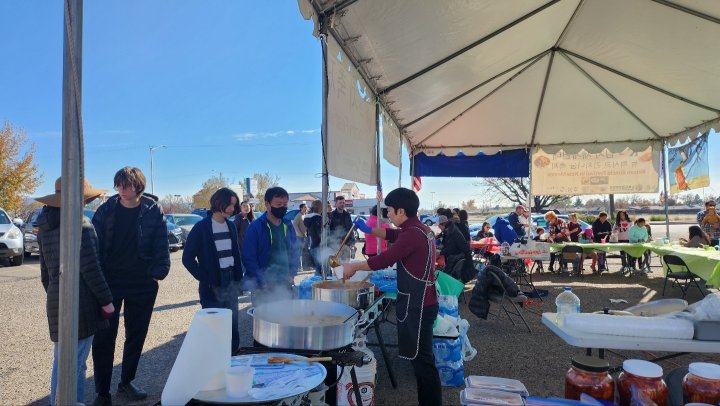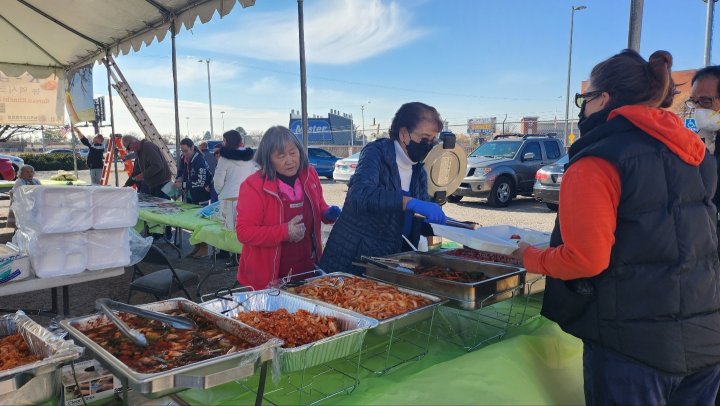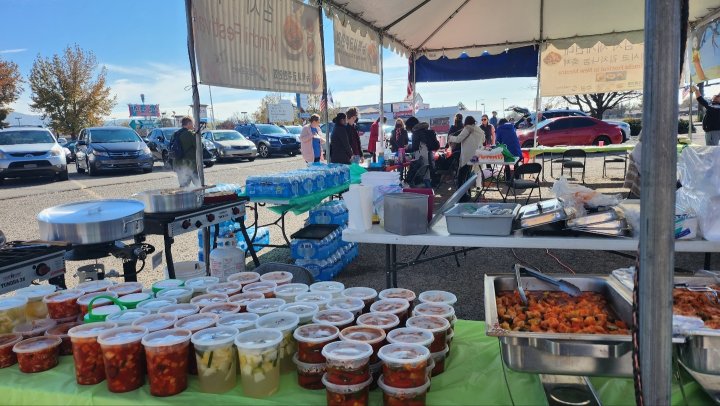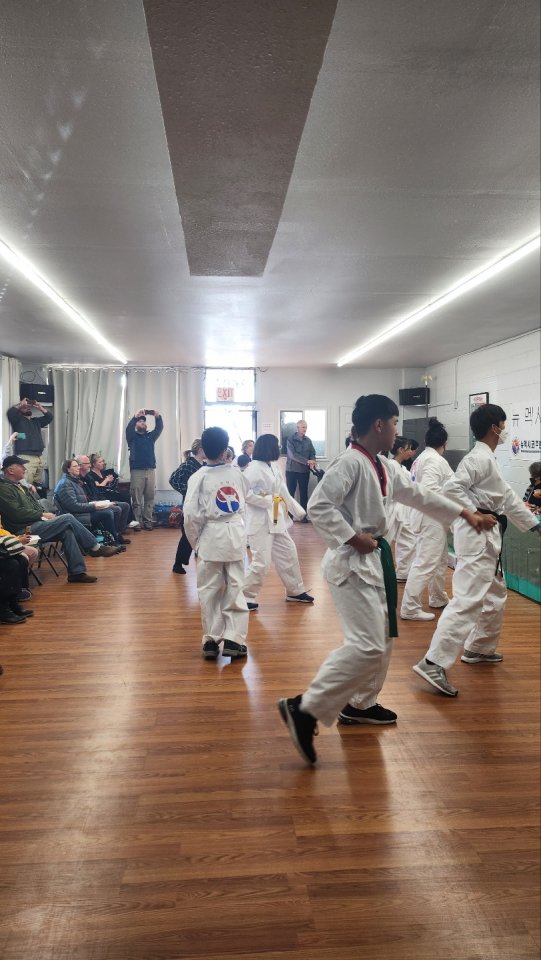 ○ Michigan, U.S.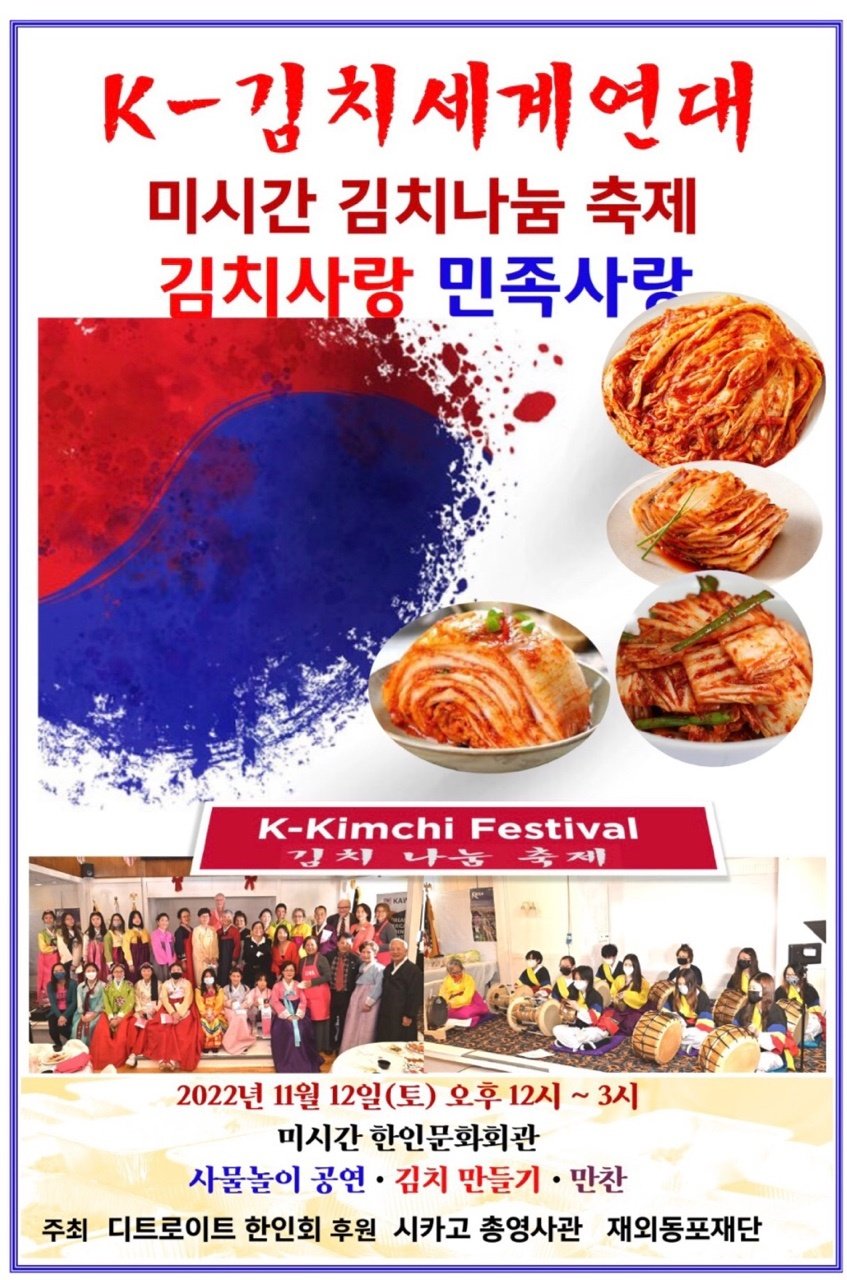 The International K-Kimchi Festival in Michigan, U.S., driven by teenagers, took place at the Korean Cultural Center in Detroit.

The Kimchi Festival, a joint festival by the Korean-American Women's Organization and Korean American Community of Metro Detroit in celebration of World Kimchi Day, was held for the second time after its first occasion last year. This festival involved a performance by a Samulnori Team of Korean middle and high school students, lectures on kimchi theories by high school students, kimchi-making experiences, and a kimchi-tasting banquet for everyone.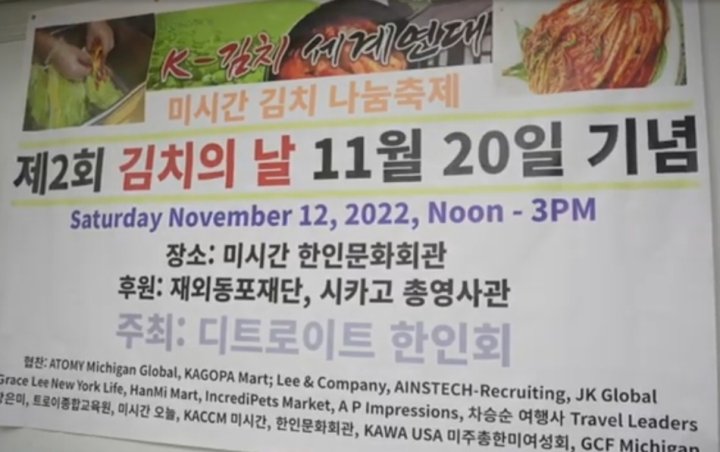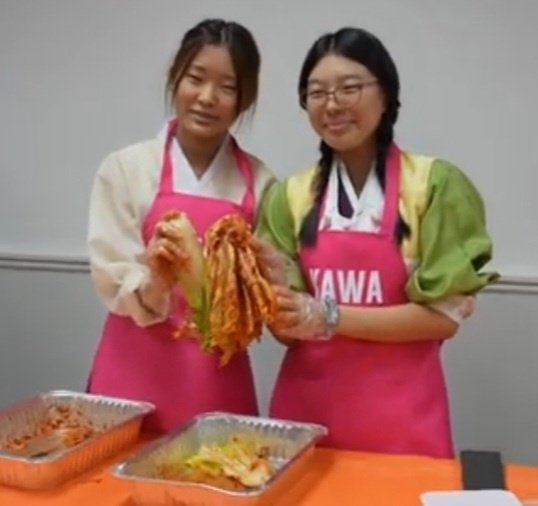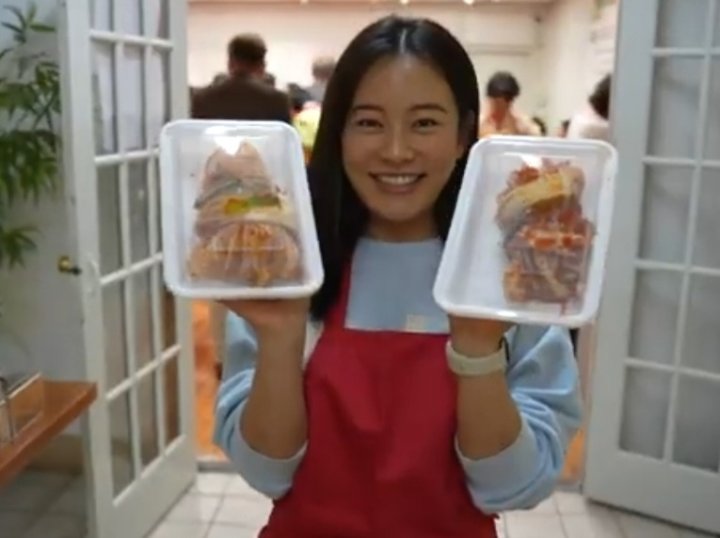 ○ Atlanta, U.S.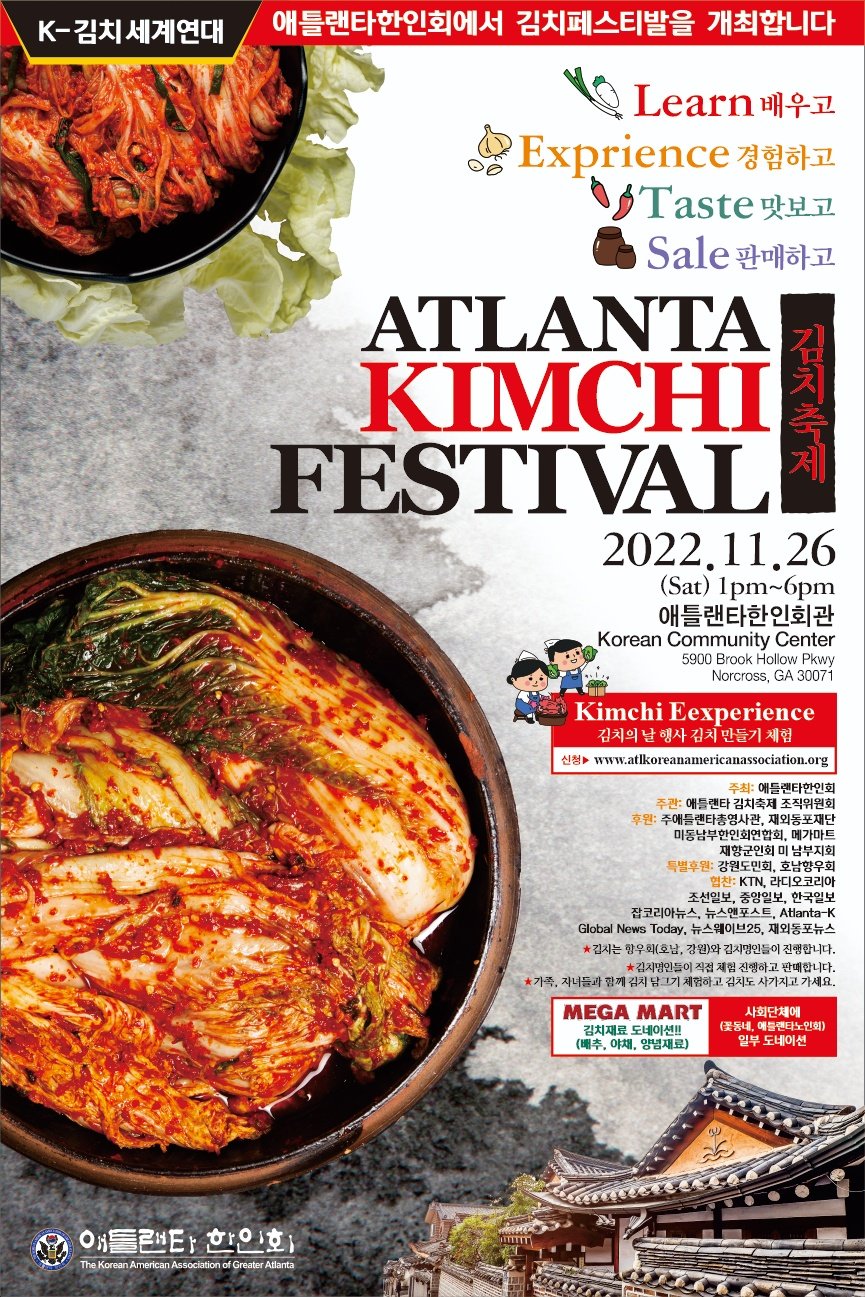 The Korean community in Atlanta has been united by the K-Kimchi Festival held by the Korean American Association of Greater Atlanta.

Here is the collection of photos of the K-Kimchi Festival taken at the Center of Korean Association of Greater Atlanta in Atlanta, U.S., on November 26.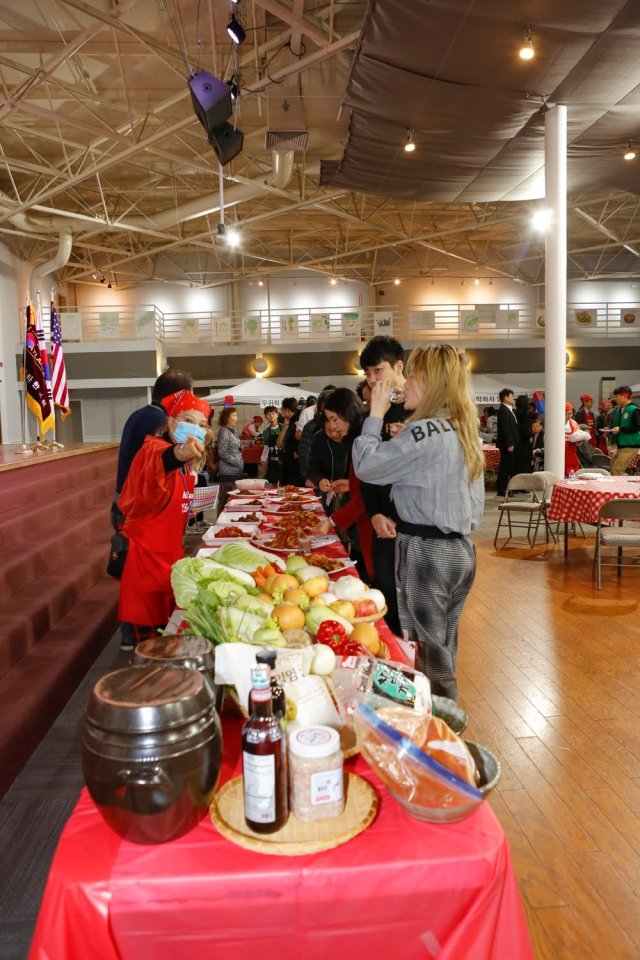 ○ Washington, D.C., U.S.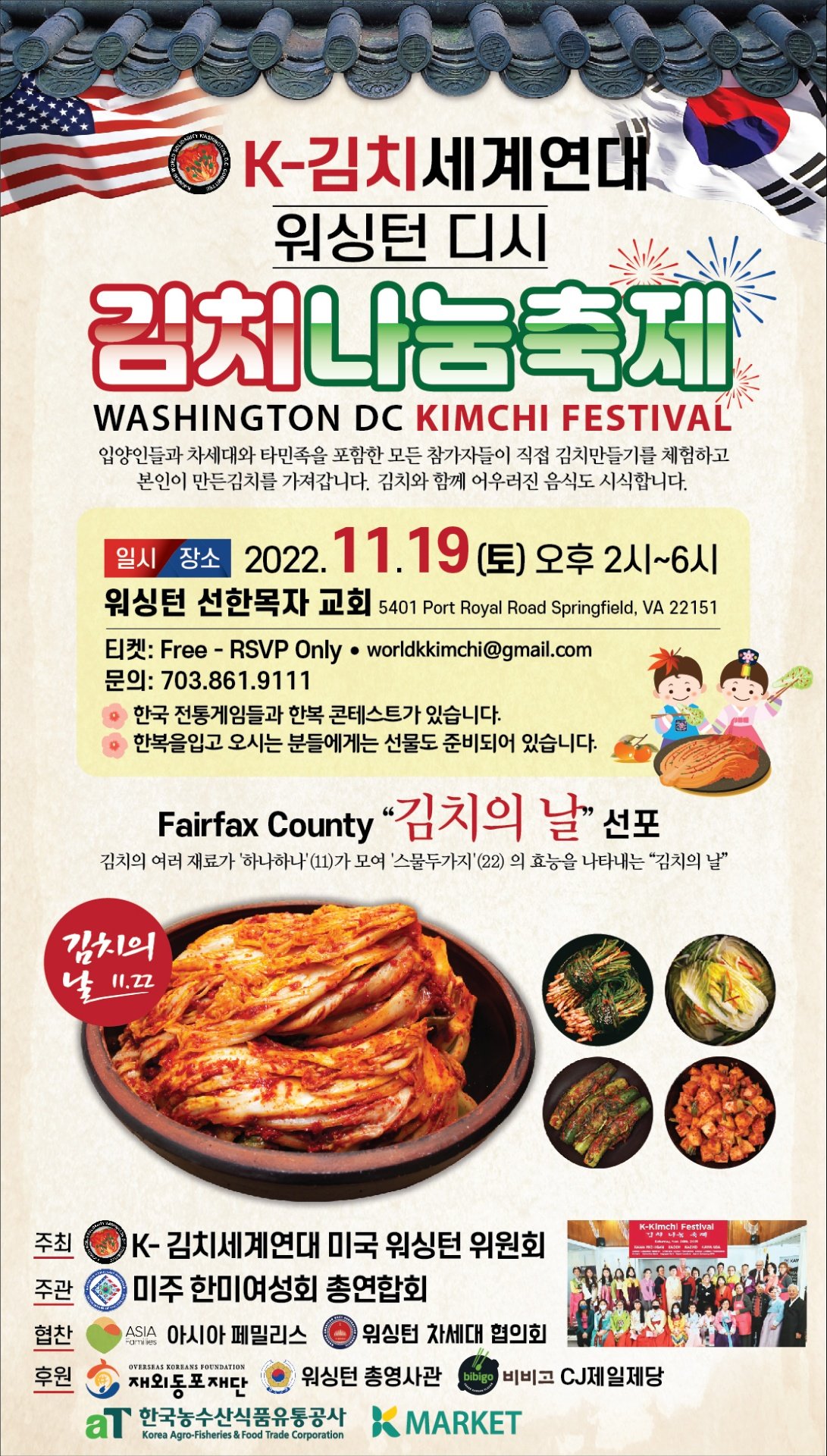 At the International K-Kimchi Festival in Washington D.C., adopted Koreans participated in the kimchi seasoning mixing activity.

About 250 participants of various ethnic groups came to this event hosted by the Washington D.C. Committee of the International K-Kimchi Festival and prepared together by the Korean-American Women's Association, ASIA Families Culture School, Washington Next Generation Council, and female believers of the Good Shepherd Evangelical Church.

The festival included traditional games of Korea (Jegichagi and Slap Match), a Korean dress show, and a Nanta performance by the Salah Korean Traditional Art Group. Politicians of the region came to taste kimchi and pork wraps, turning the festival into a diplomatic stage for the private and public sectors.

The Ki-Kimchi Festival in Washington D.C. was introduced in detail with photos by 'Washington Post' as a featured article.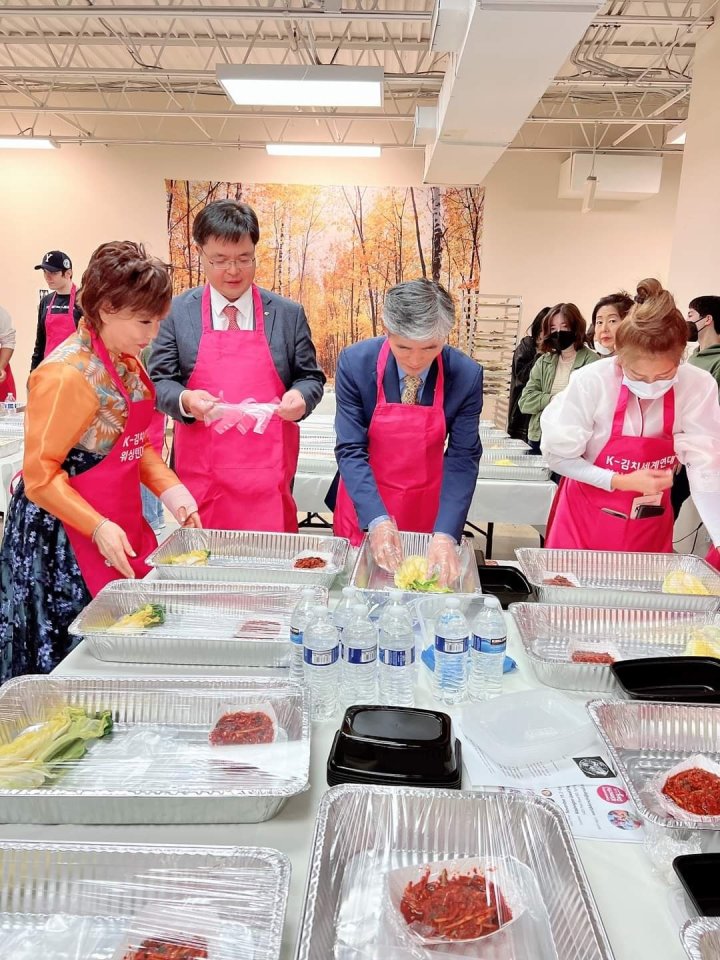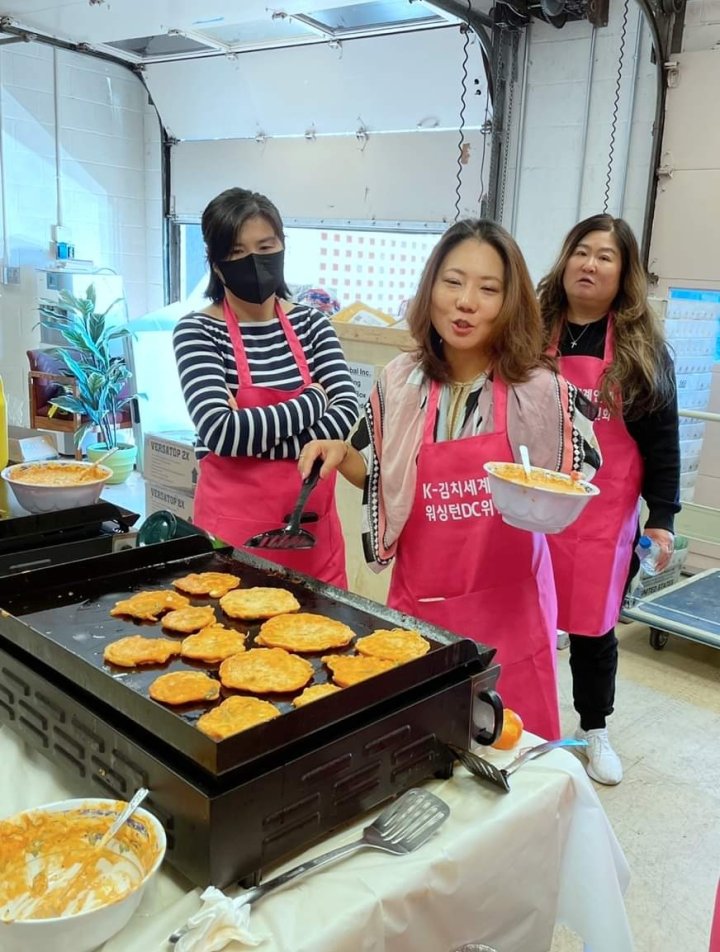 ○ California, U.S.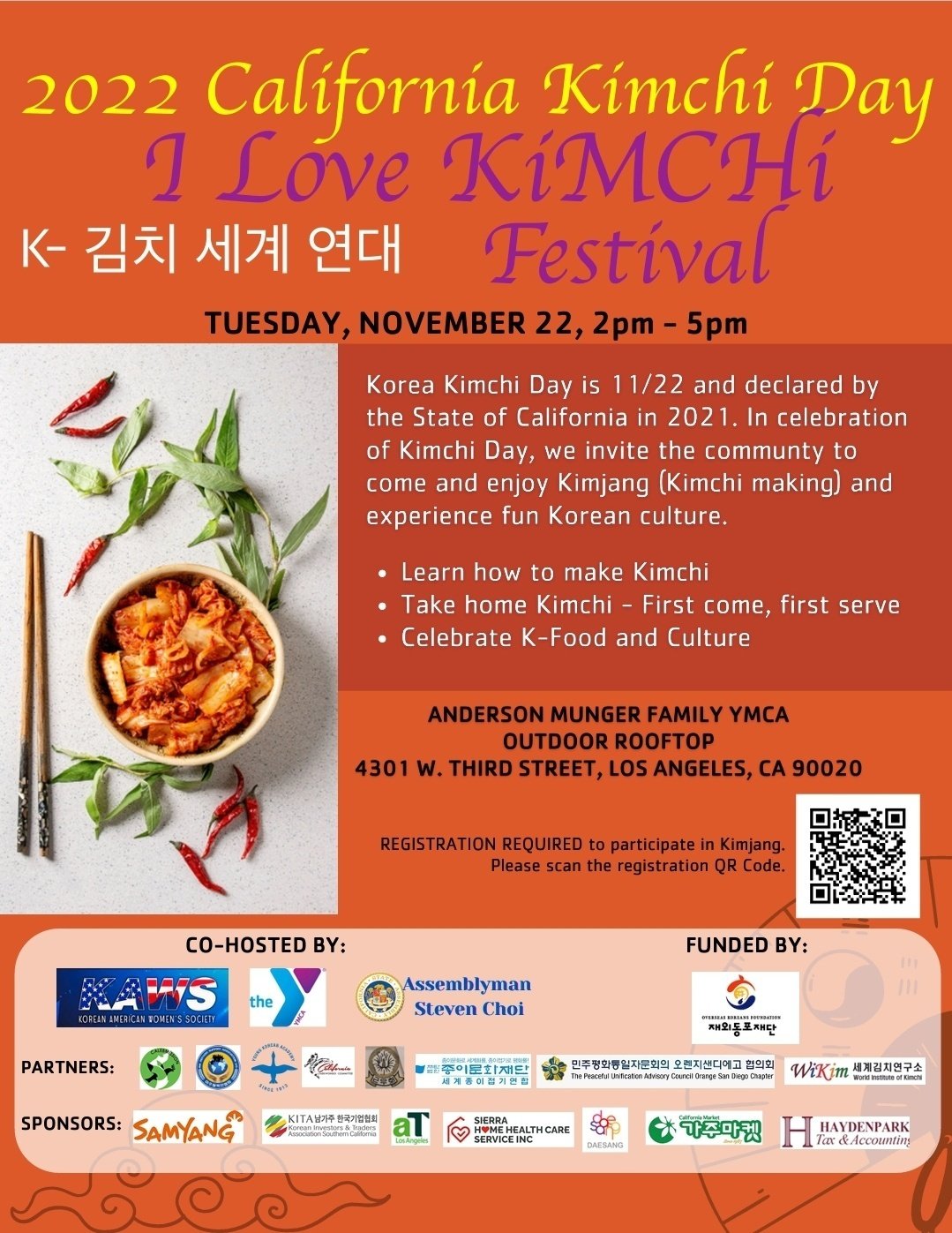 The International K-Kimchi Festival in California was held in Los Angeles on November 22 as the "Kimchi + K-Culture + Youth = K-Culture Festival."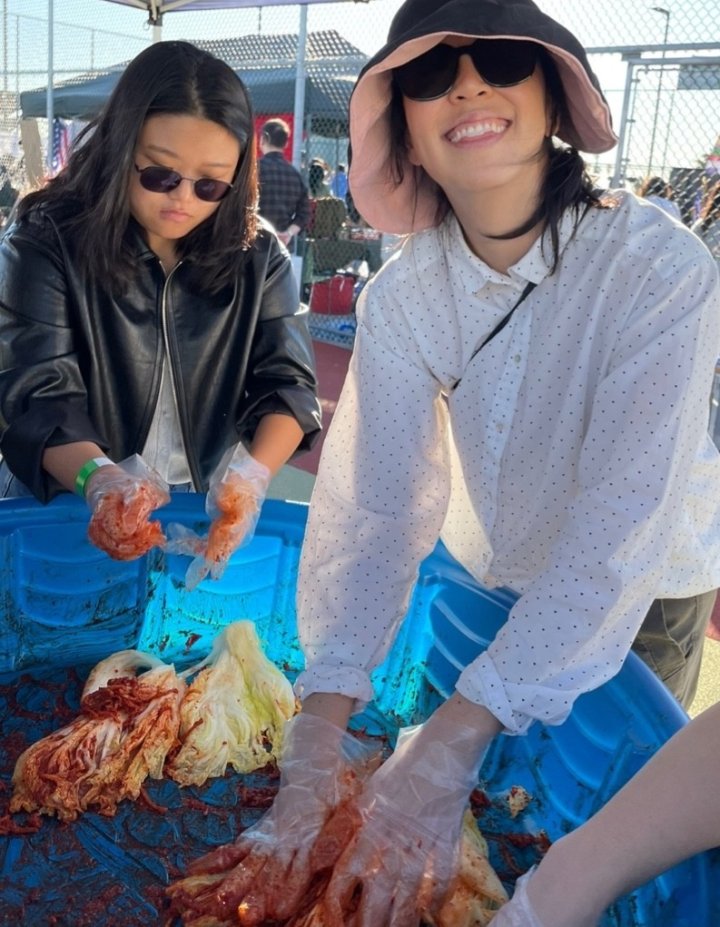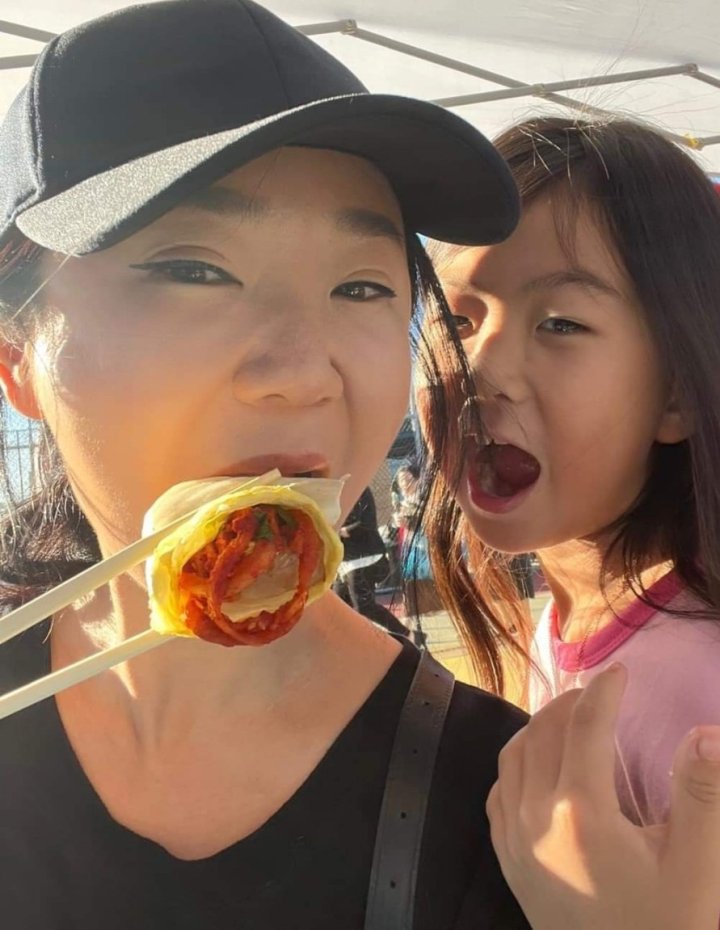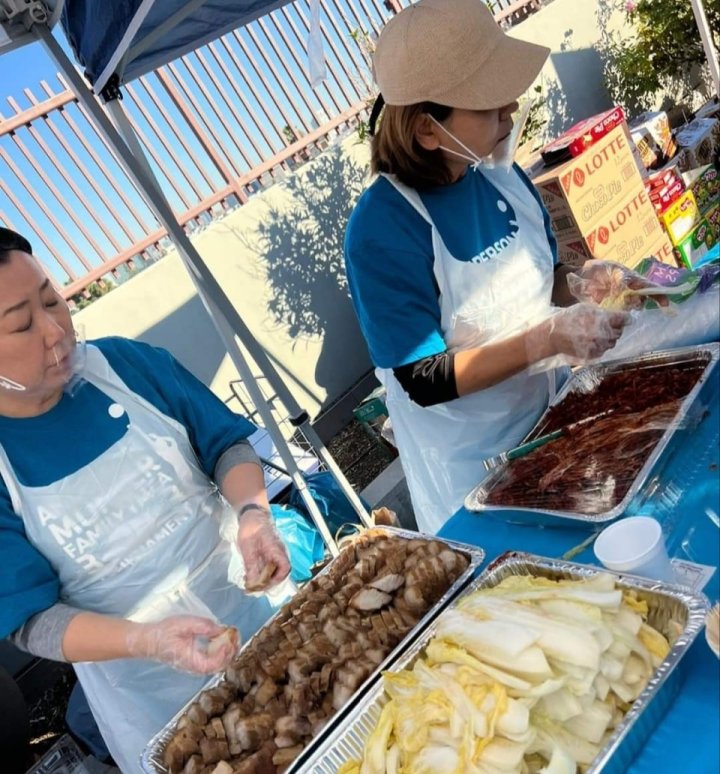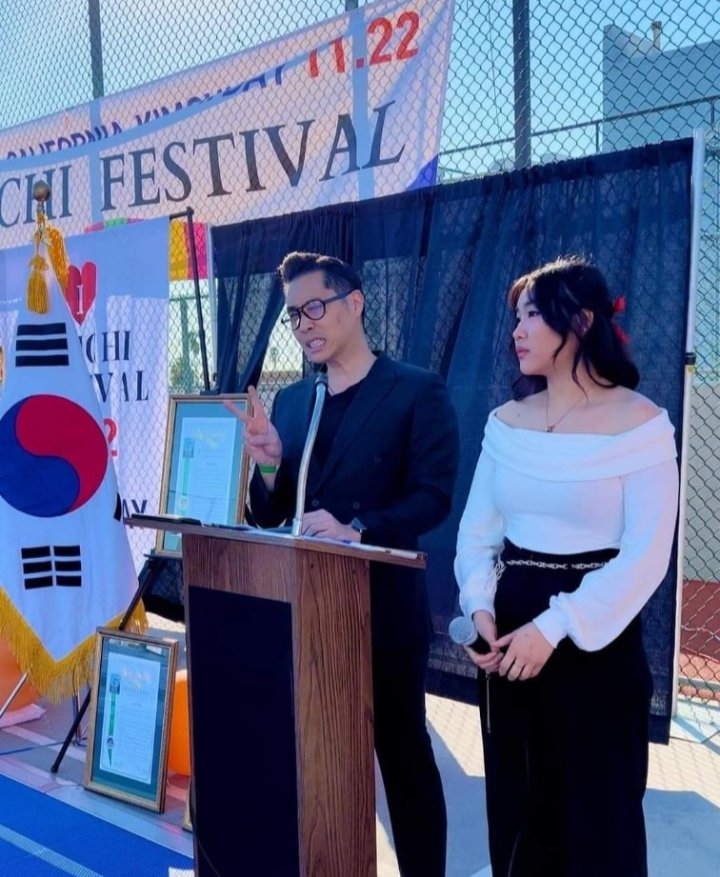 ○ Myanmar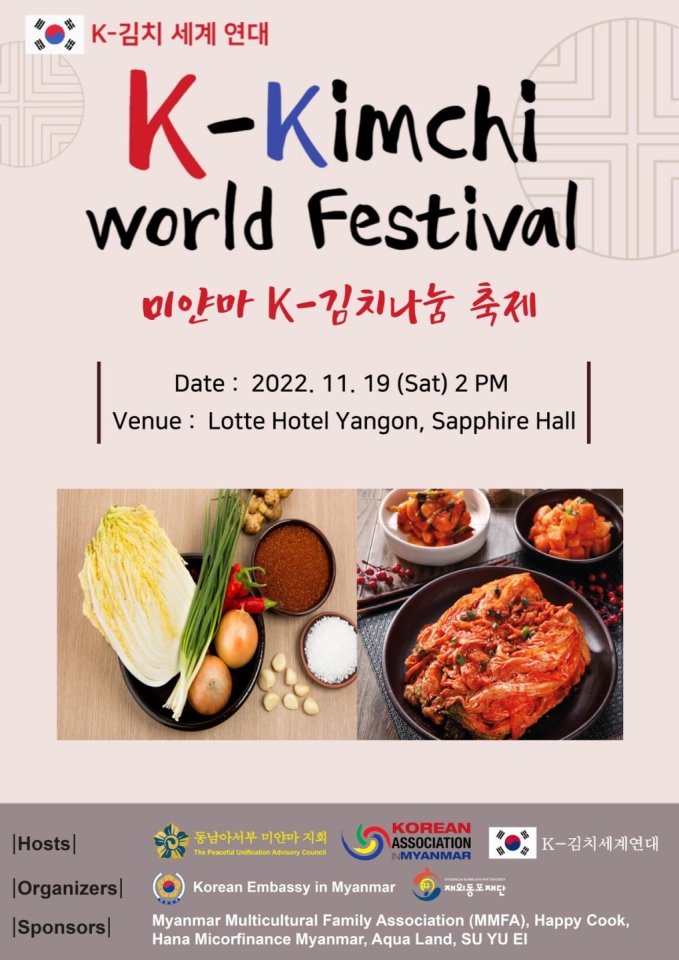 Youths in Myanmar were invited to learn how to make K-kimchi.
Experts in Korean food passed on their Kimchi taste. Kimchi made sincerely through on-site demonstration was shared with the community.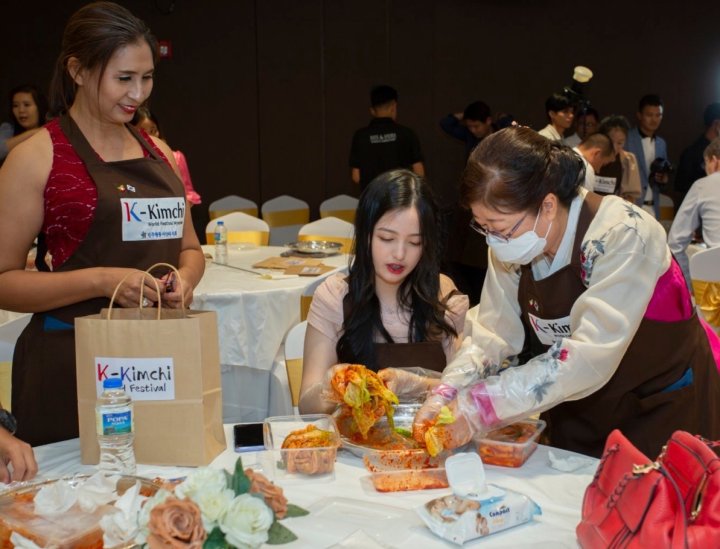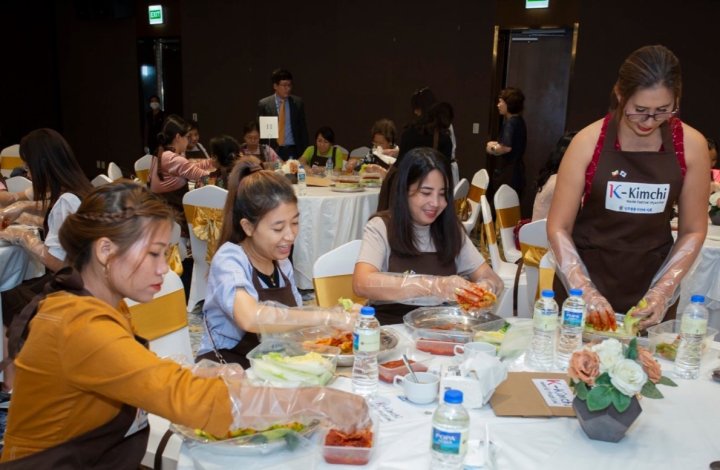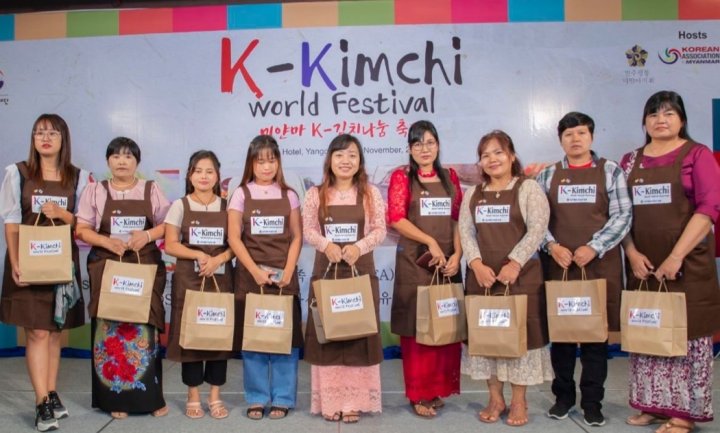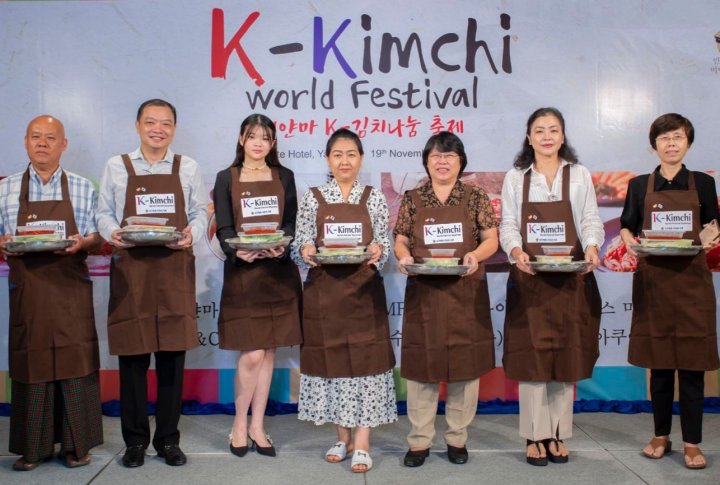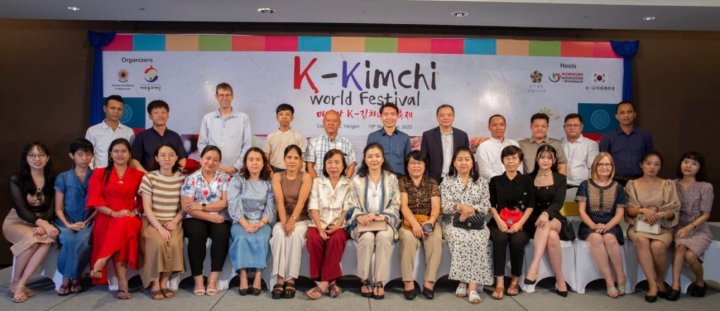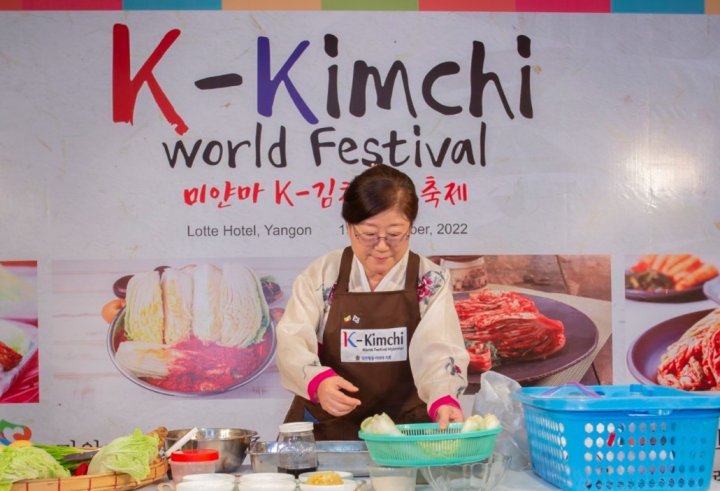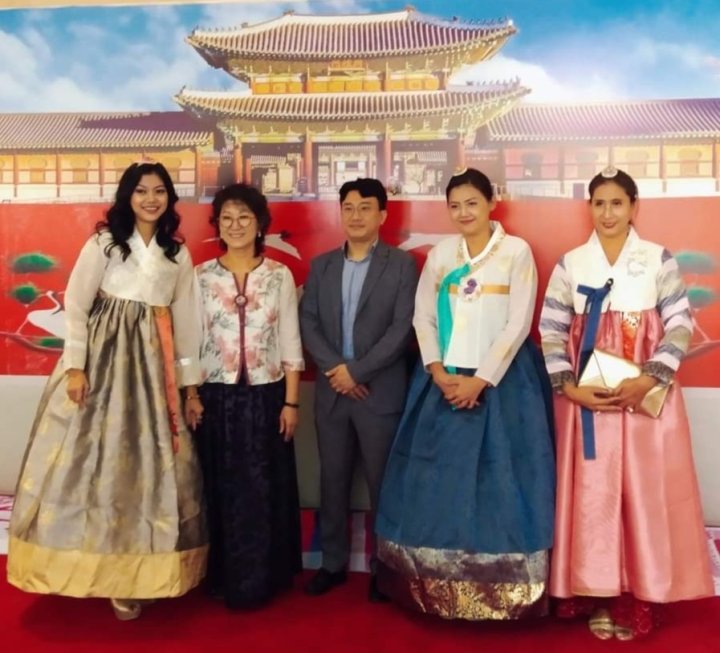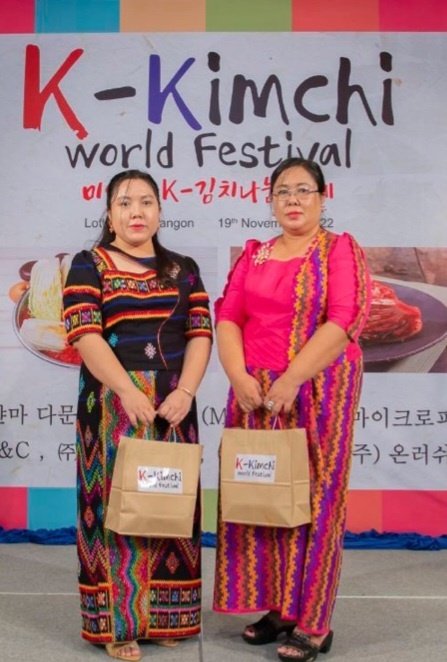 ○ Ho Chi Minh, Vietnam
The International K-Kimchi Festival in Ho Chi Minh, Vietnam was held on Saturday afternoon on November 26.
This kimchi festival became a grand feast for the private friendship and unity of Korea and Vietnam with the participation of many local Vietnamese residents.

While making 500 heads of cabbage kimchi, participants made fresh kimchi salad with raw oysters transported by air from Korea, water-based radish kimchi, leaf mustard kimchi, green onion kimchi, young radish kimchi, sliced radish kimchi, white kimchi, and stuffed cucumber pickles.

This generous festival offered instant-boiled sweet potatoes, 20 kg of pounded rice cakes and rice cakes with soy flour, 100 rolls of gimbap, 100 one-liter bottles of sweet rice punch, and ripened kimchi pancakes with ground meat.

Members of the Ho Chi Minh Korean Women's Association worked hard to prepare for the K-Kimchi Festival in Ho Chi Minh with the support of many Korean organizations.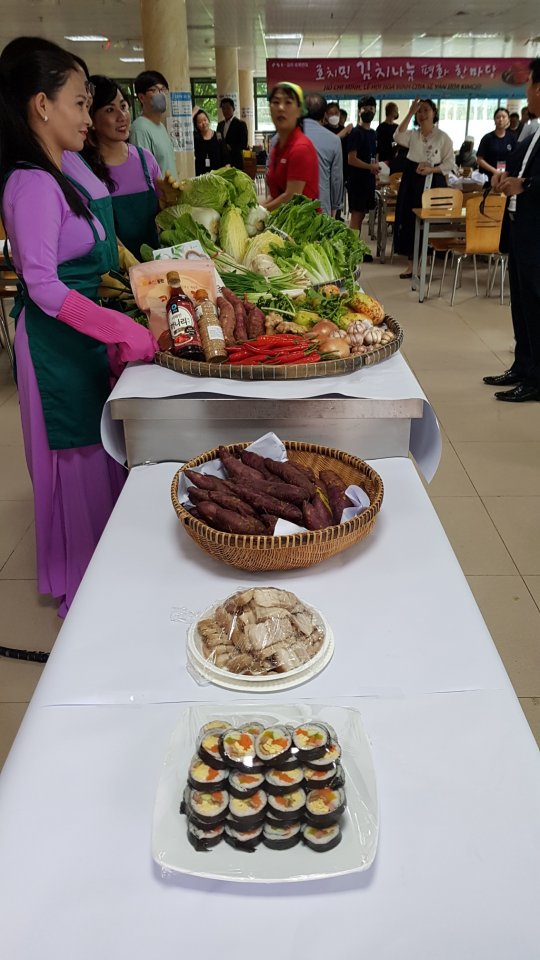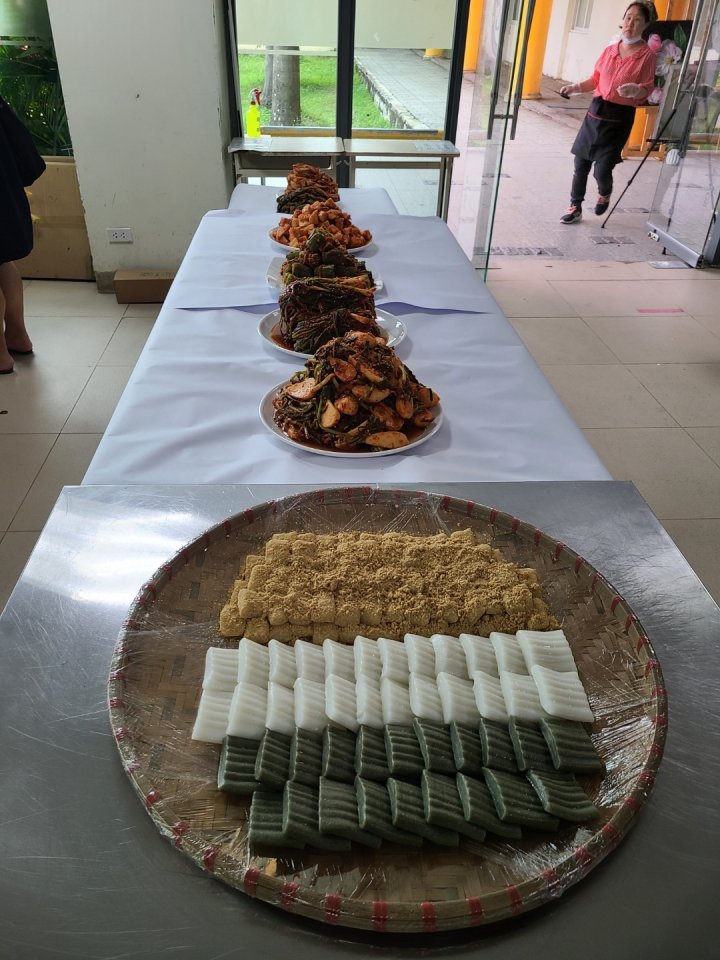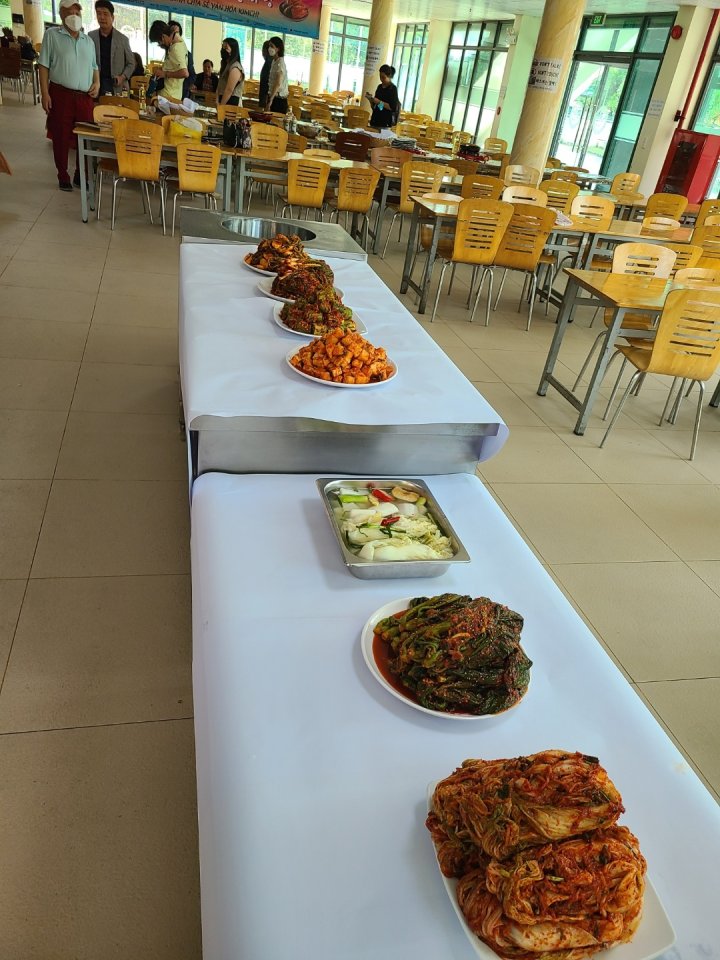 ○ Buenos Aires, Argentina

This is a nongovernmental K-kimchi diplomat.
Here is the scene of the International K-Kimchi Festival in Buenos Aires, Argentina, the place that is furthest away from Seoul.

We can clearly see the aprons with the national flag of Korea.
Nongovernmental kimchi diplomacy... Everyone is a nongovernmental K-kimchi diplomat.

Members of the Argentina Korean Women's Association showed their love for kimchi and Korea, making the K-kimchi festival a great success.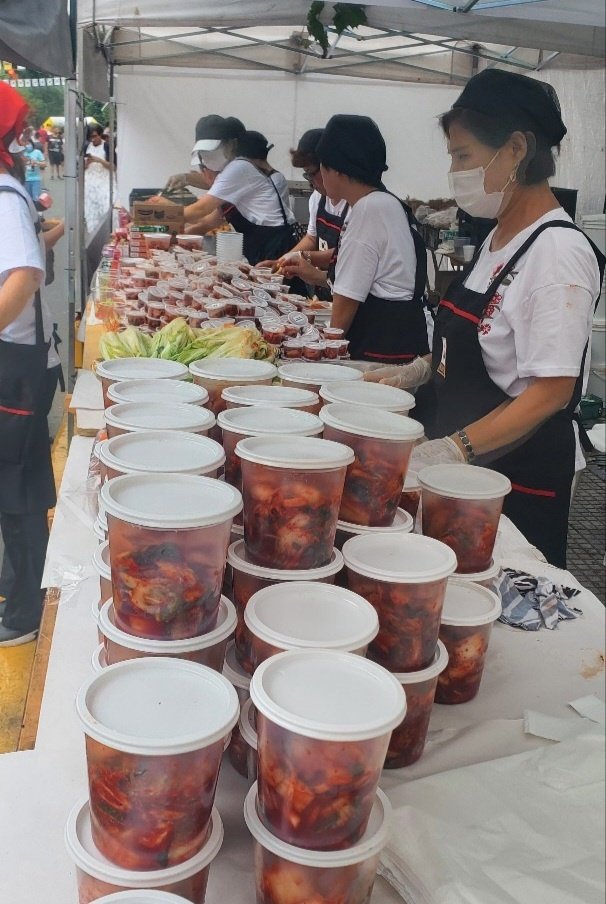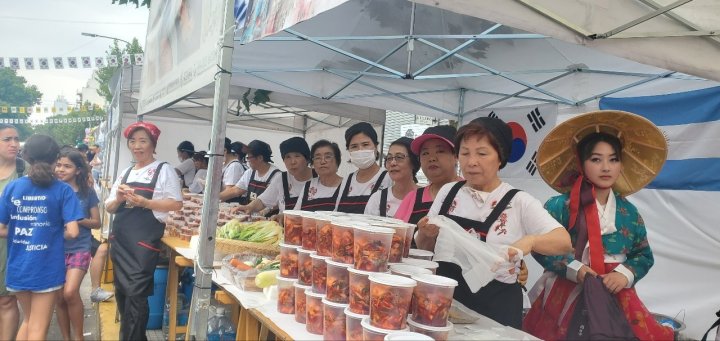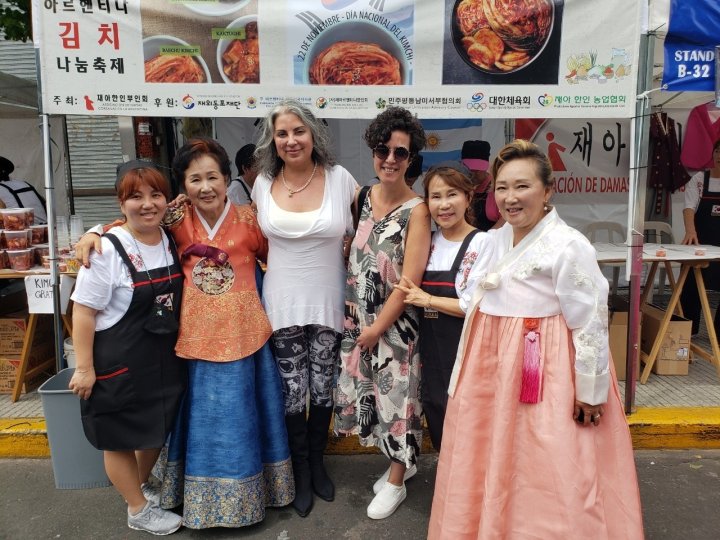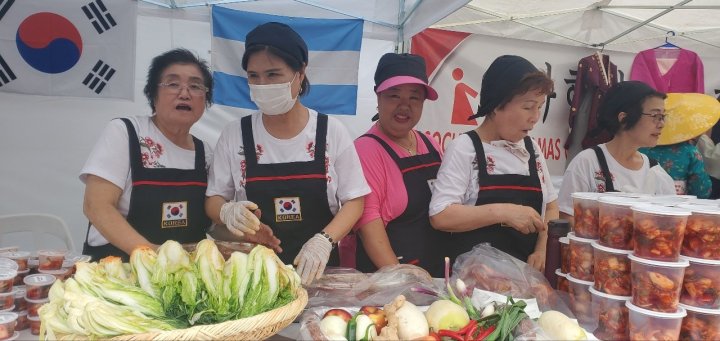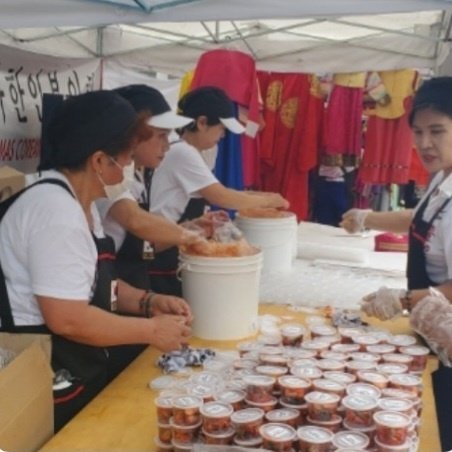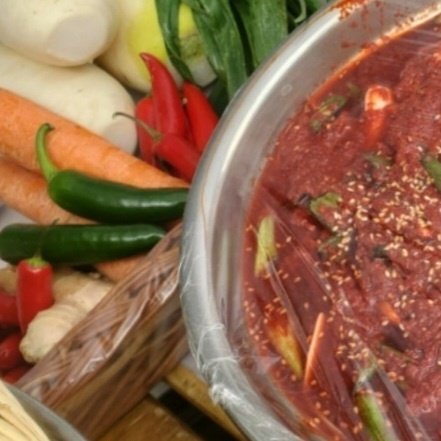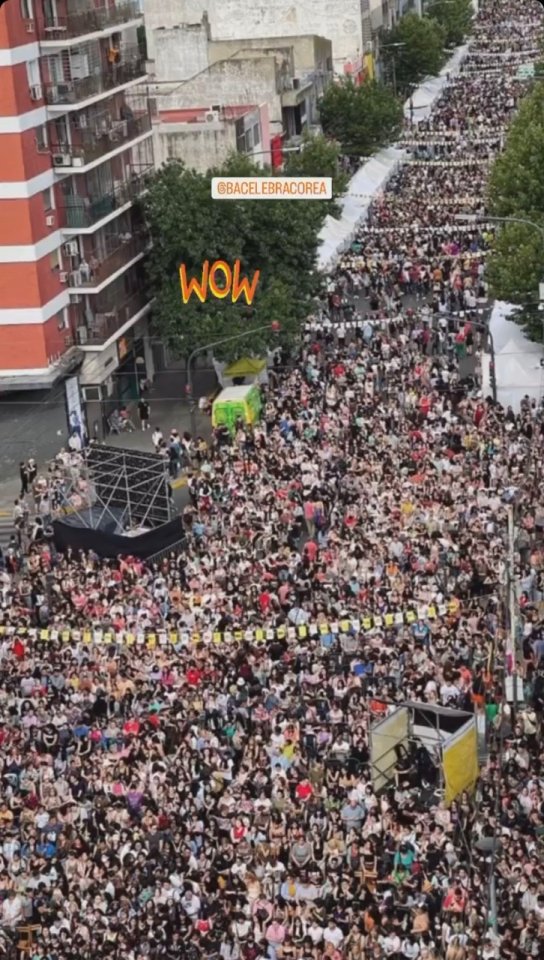 ○ Tokyo, Japan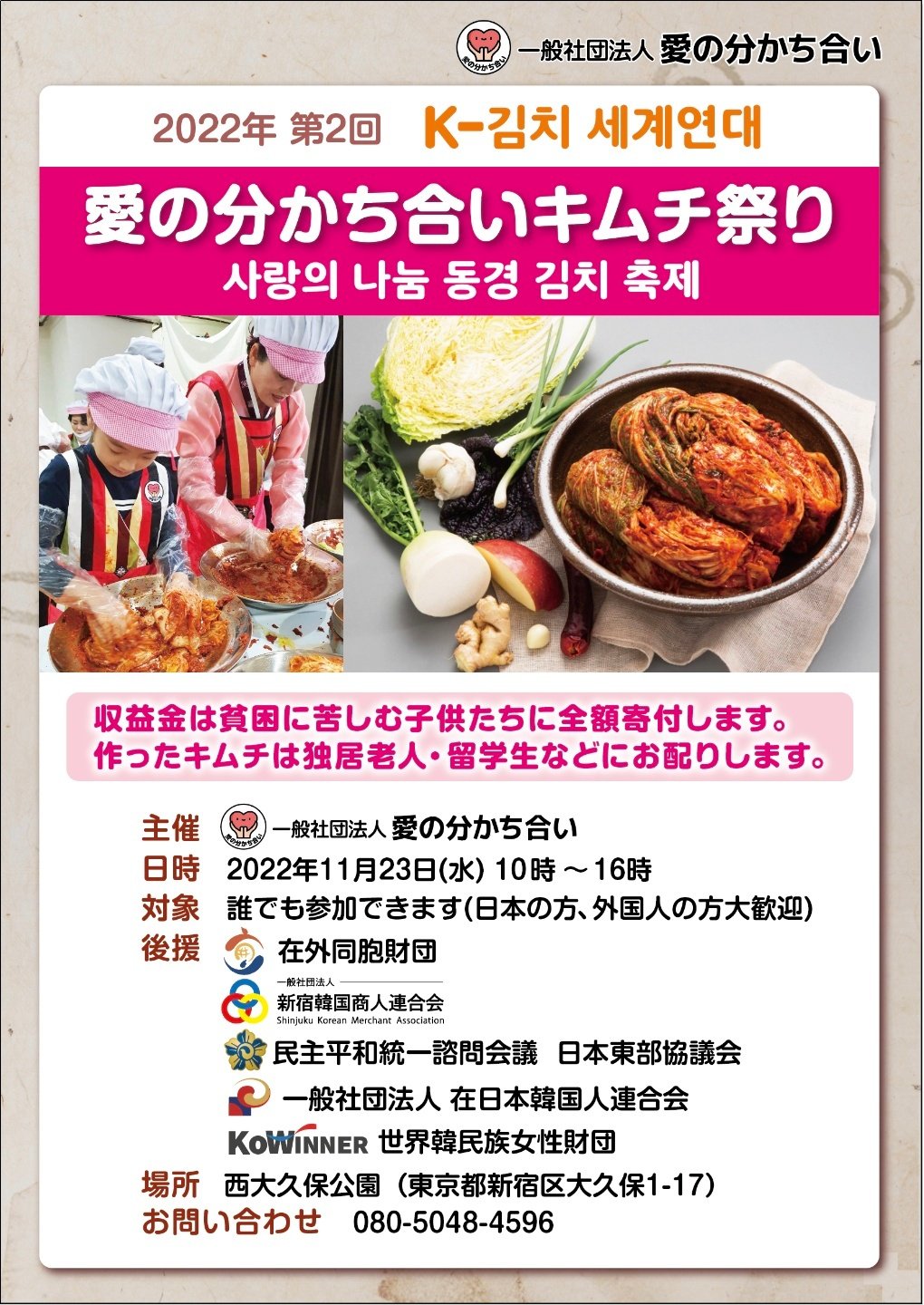 K-Kimchi Festival in Tokyo, "Korea-Japan Kimchi-Making Festival"

The International K-Kimchi Festival in Tokyo, Japan was held for two days from the 22nd, World Kimchi Day, to the 23rd.

Many Japanese homemakers were invited to promote private friendship between Korea and Japan.
It started to rain in Tokyo on the 23rd in the morning, so tents had to be installed outdoors. Participants of the festival learned about the history of kimchi and gained kimchi-making experience.
The Korea-Japan Kimchi-Making Festival presented cabbage kimchi, sesame leaf kimchi, green onion kimchi, and sliced radish kimchi as the primary kimchi menus.

The K-Kimchi Festival in Tokyo was carried out in the rain as a festival prepared together by the Shinjuku Korean Merchants Association and members of a corporate volunteer group called Love Giving.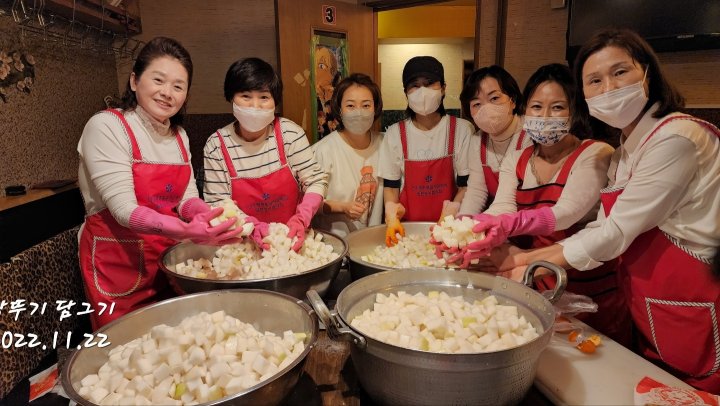 ○ Osaka, Japan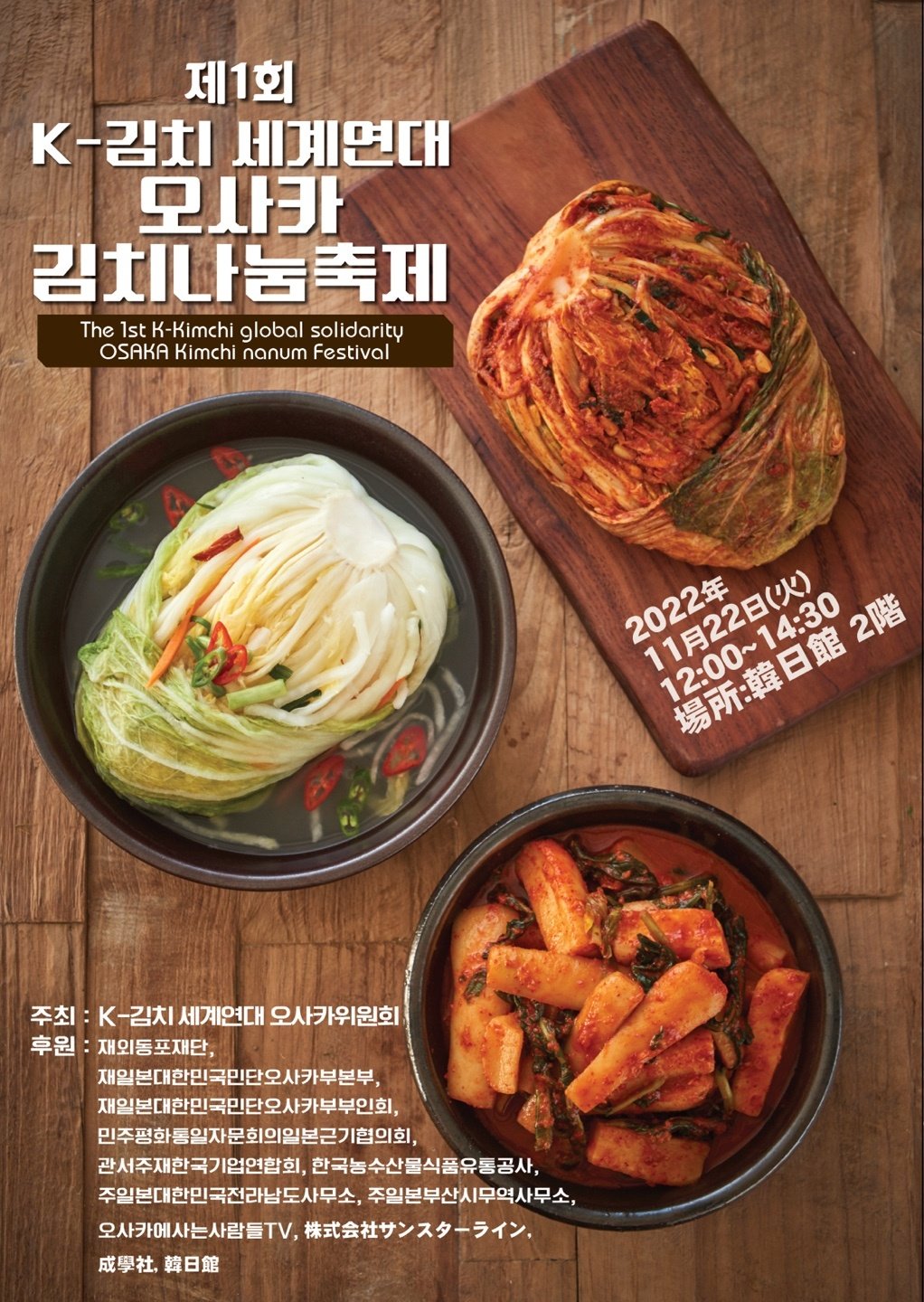 At the K-Kimchi Sharing Festival held in Osaka, Japan, the knowhow of kimchi-making was passed on from the older generations to young students and from mothers to their daughters.

The Osaka Kimchi Festival was held from the noon to 3pm on 22 and was filmed by the YouTube channel <People Living in Osaka TV> with 820,000 subscribers, which will be aired as a special year-end program about kimchi.

K-kimchi made at the Osaka Kimchi Festival was delivered to the 'House in Hometown,' the neighboring nursing home in Osaka.
○ Dalian, China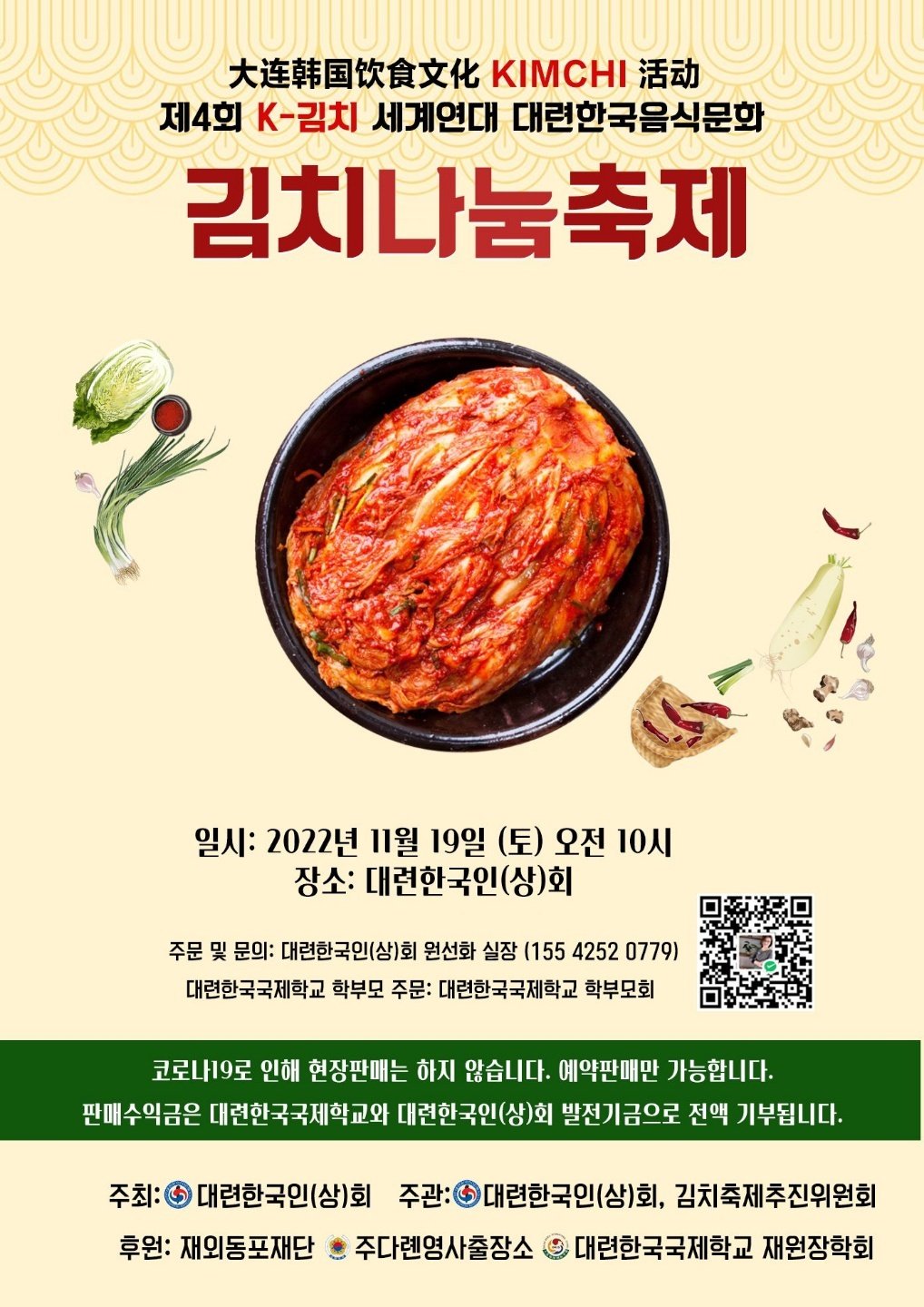 The International K-Kimchi Festival in Dalian, China was held at the Dalian Korean Association hall under the strict COVID-19 quarantine guidelines of the Chinese government.

Students and parents of the Dalian Korea International School and executives of the Dalian Korea Association gathered together for the love of kimchi.
○ Tianjin, China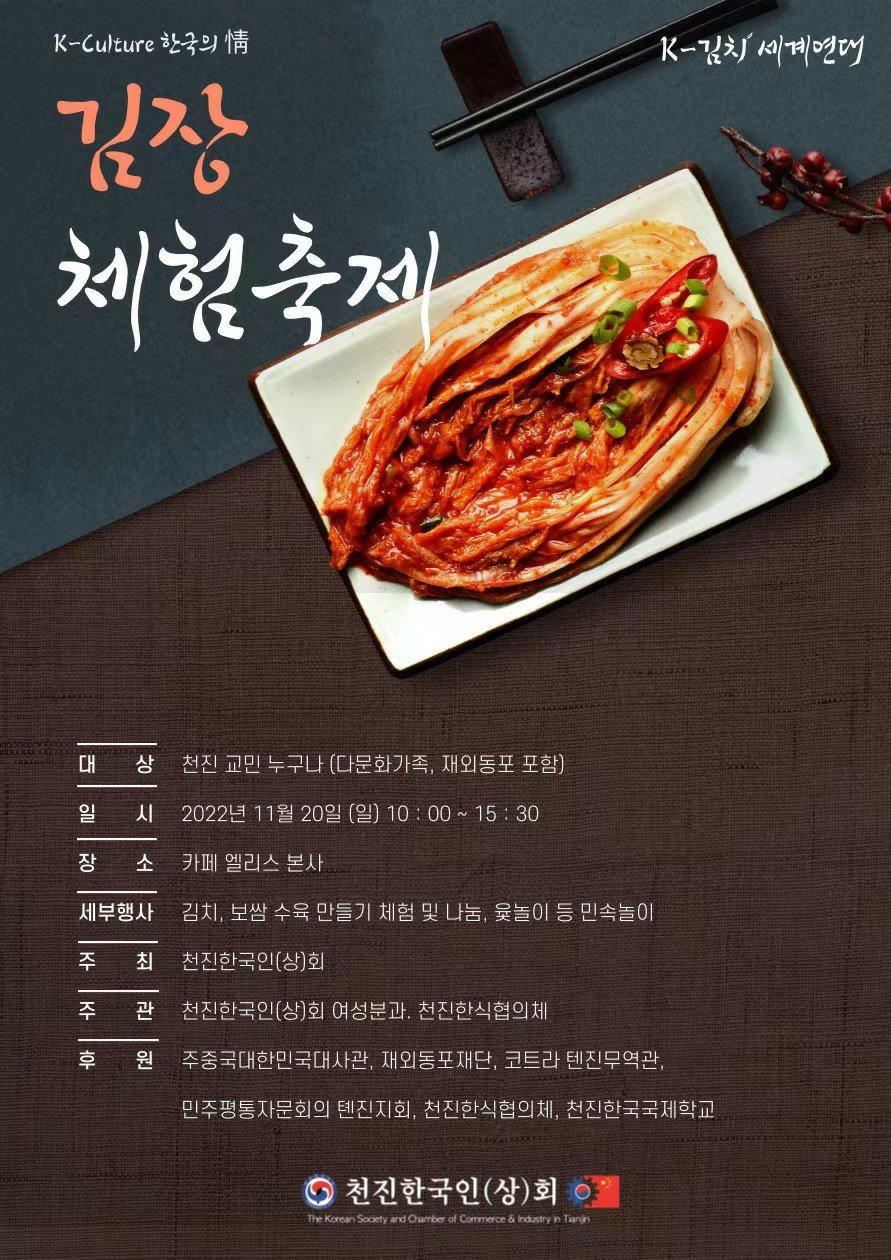 It is the International K-Kimchi Festival in Tianjin, China.

The Tianjin Korean Association held the '5th Korean Culture, Korean Affection, Gimjang Experience Festival' for two days from November 19 to 20.

270 people including multicultural families and foreigners participated in kimchi-making demonstrations and traditional Korean games such as yutnori and tuho.
○ Vancouver, Canada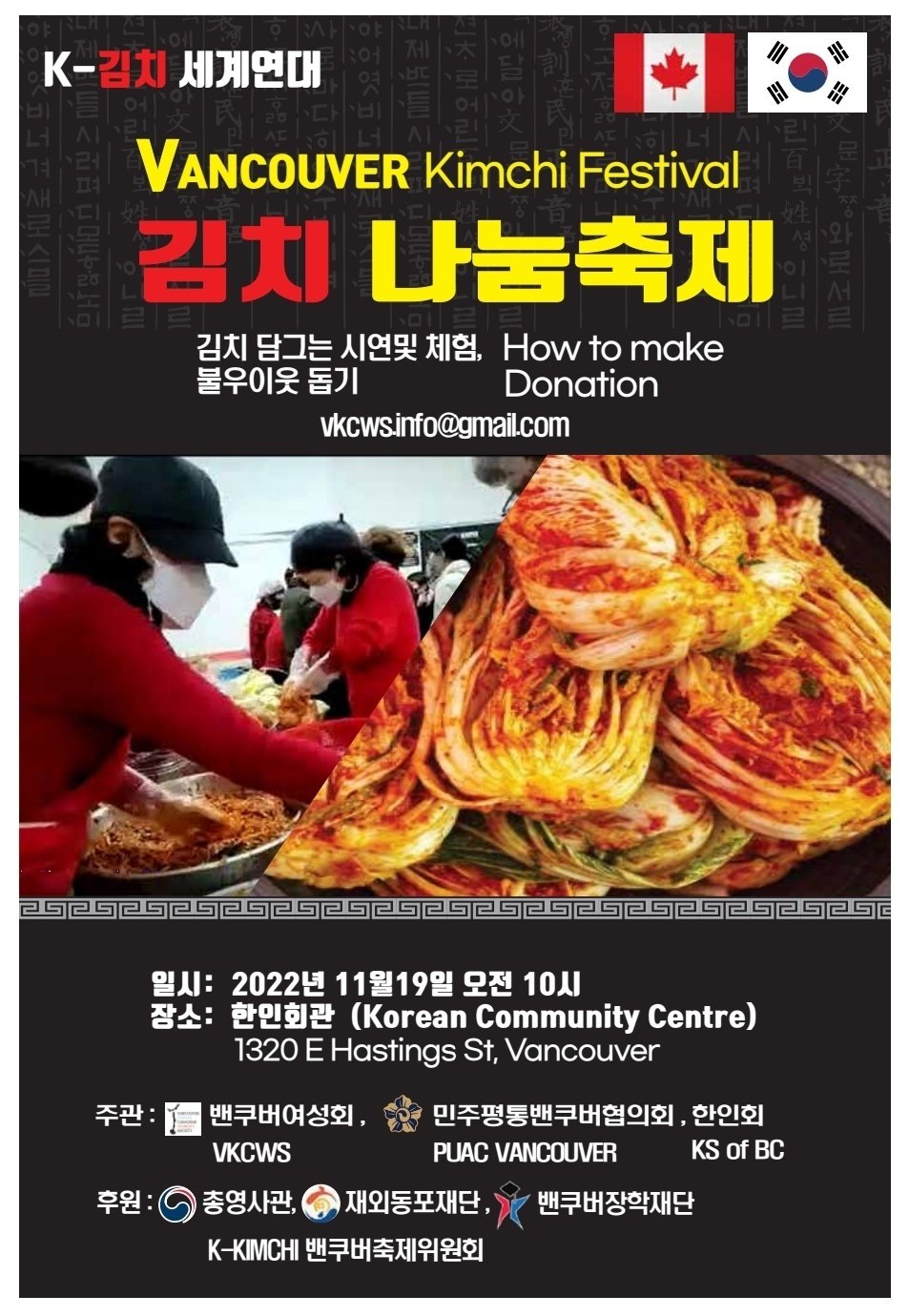 The Vancouver Kimchi Festival combined the taste and style of kimchi with a charity donation event.
The national flags of the two countries were placed in front to conduct a ceremony commemorating Kimchi Day.
○ Edmonton, Canada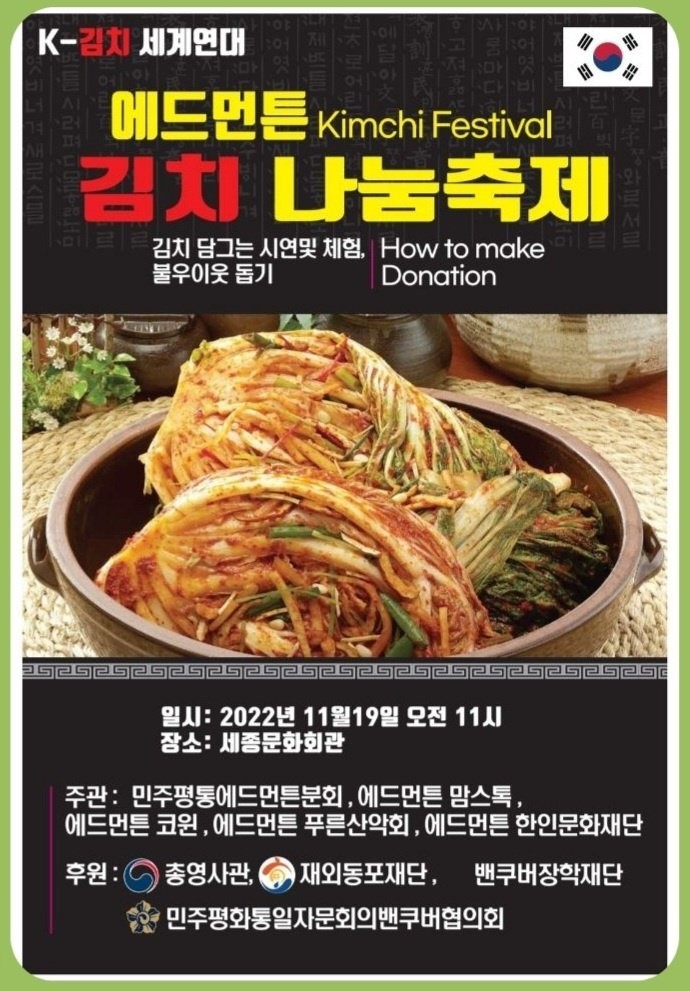 The Edmonton Kimchi Festival was held on November 26.
It was held as a volunteer event to promote and share kimchi with neighbors in need and seniors who live alone.
Foreigners who participated in the festival made kimchi in a delightful atmosphere, enjoying the traditional taste and mood of Korea with pork belly wraps and kimchi pancakes.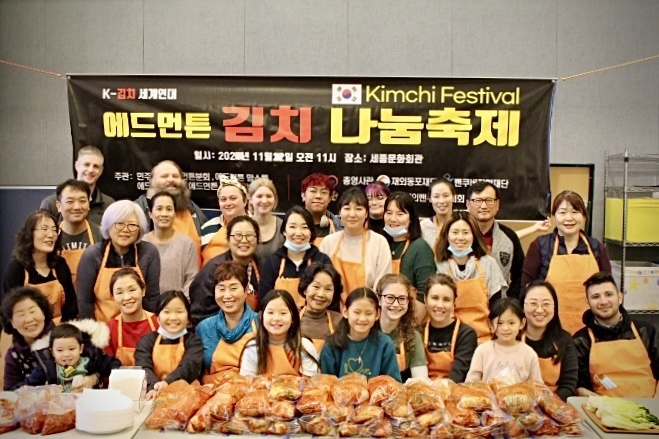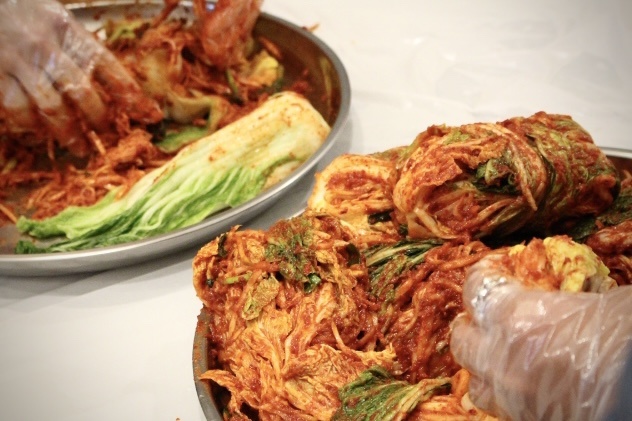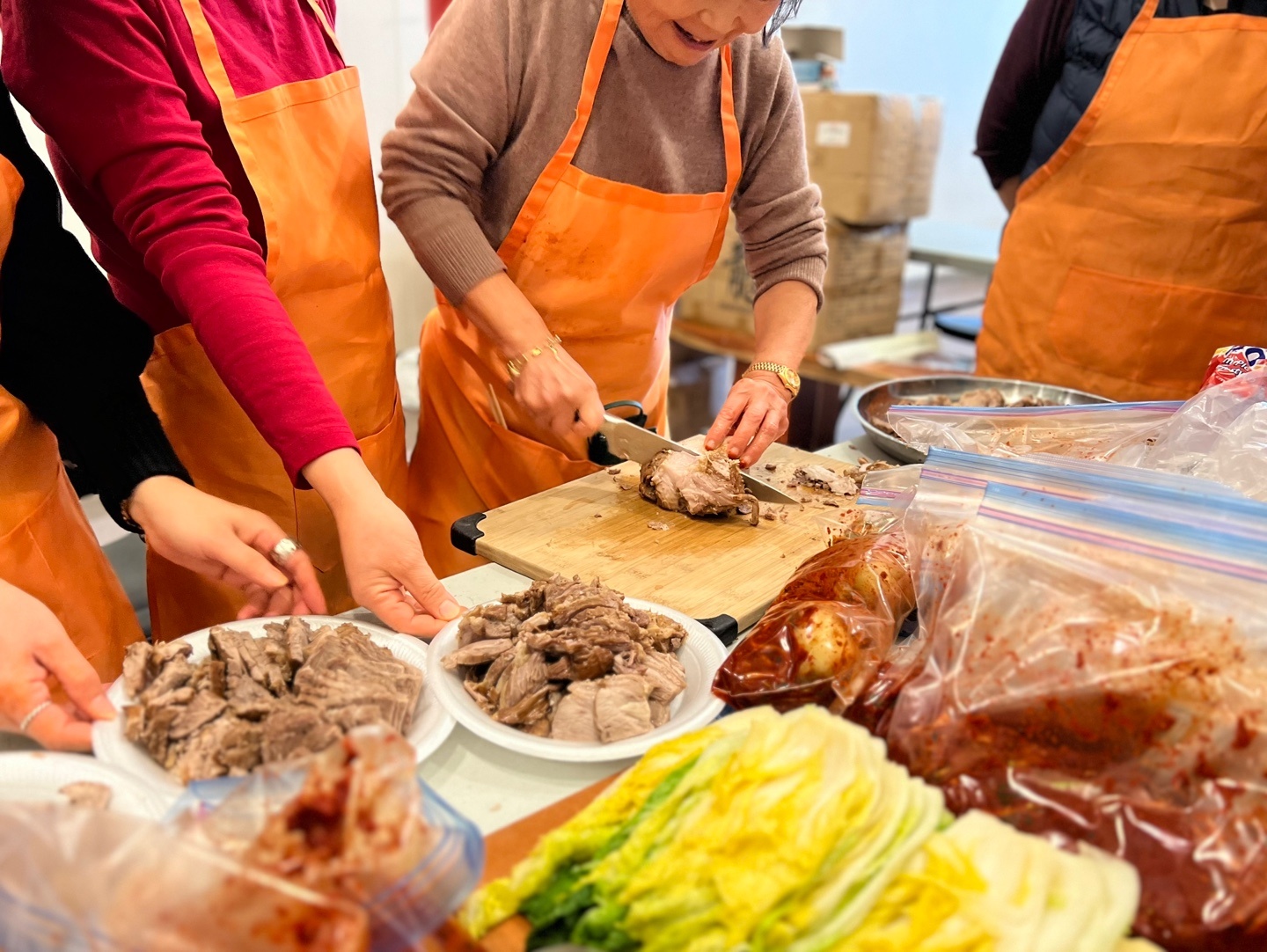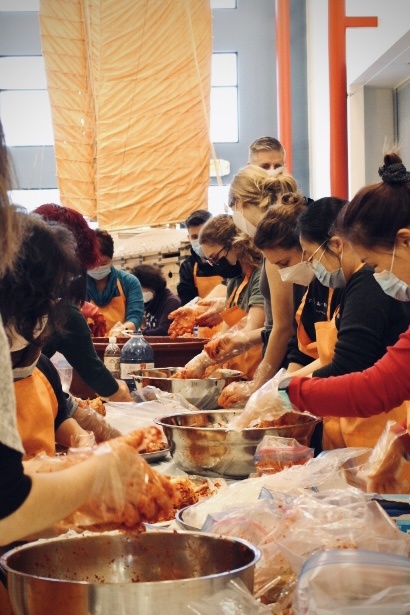 ○ Calgary, Canada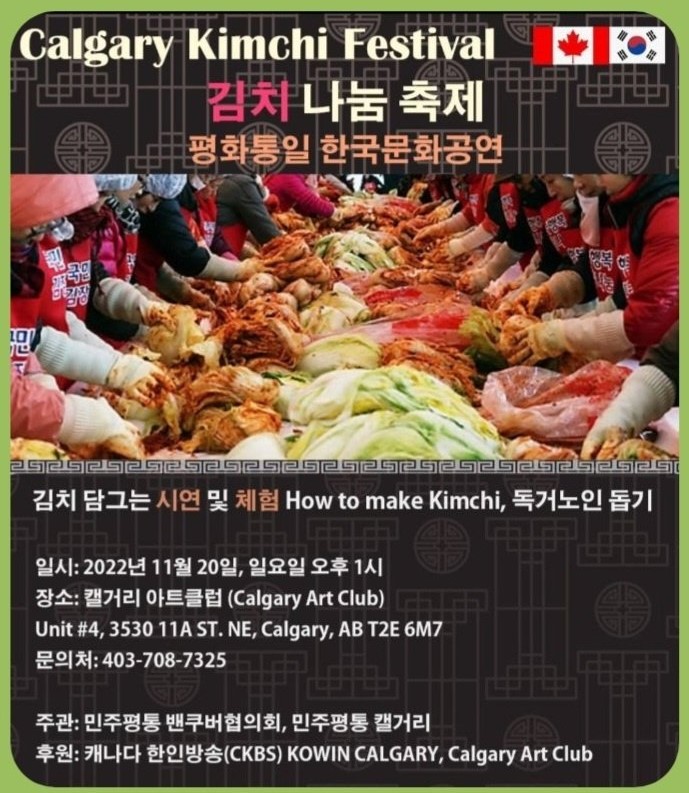 The Calgary Kimchi Festival was held to mix not just kimchi, but also the sound and taste of Korea.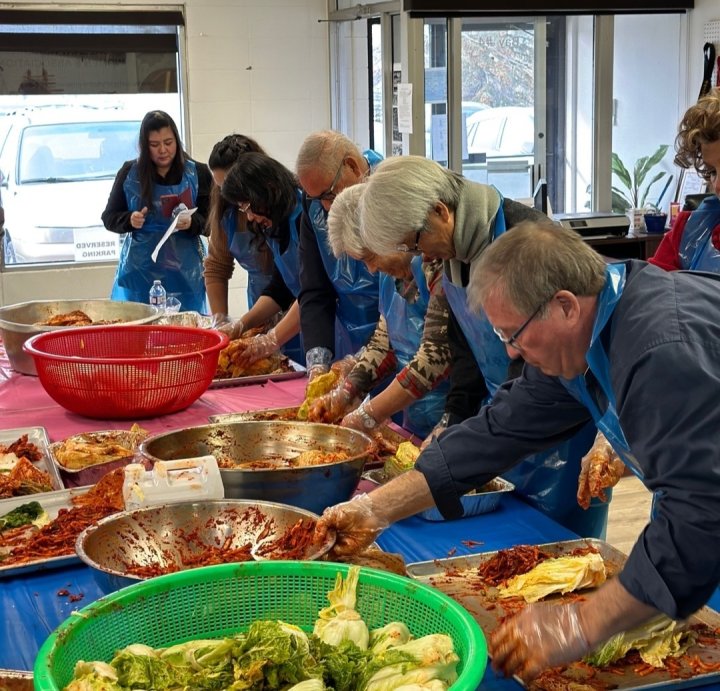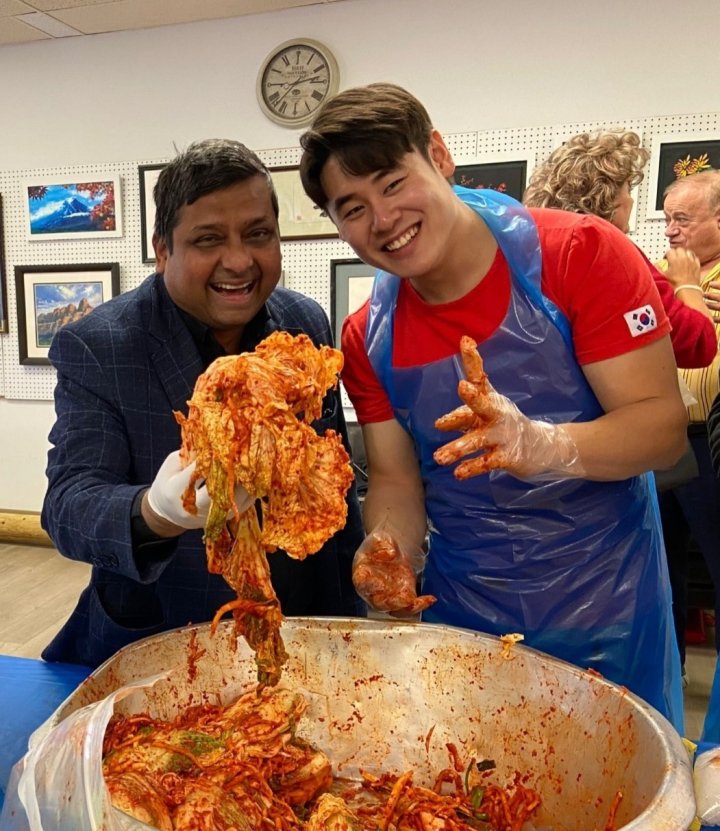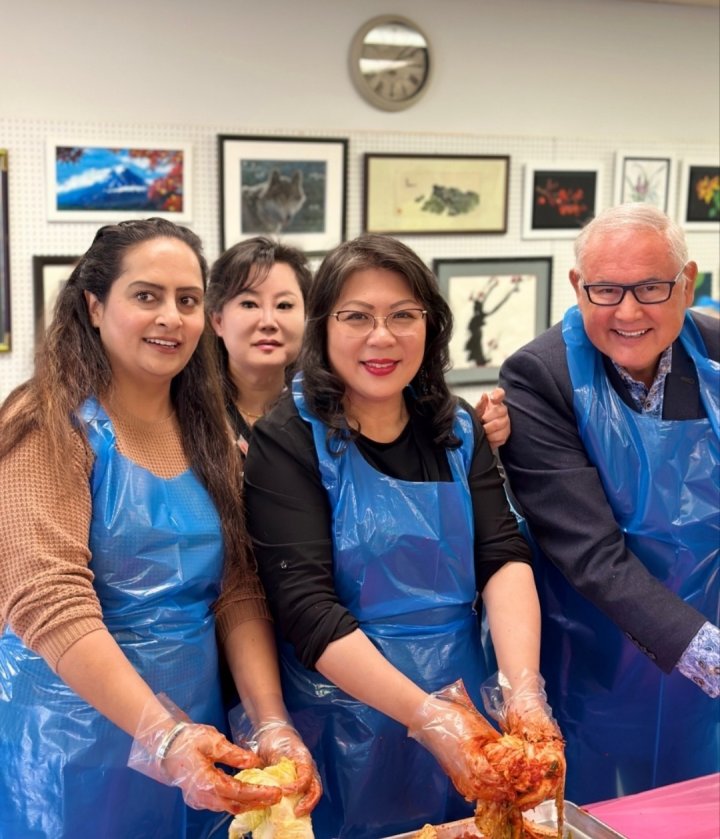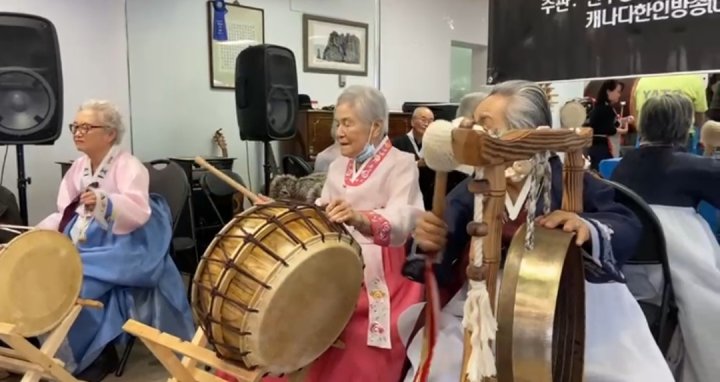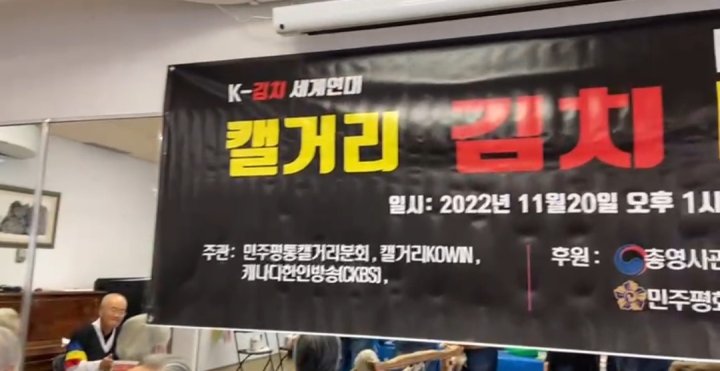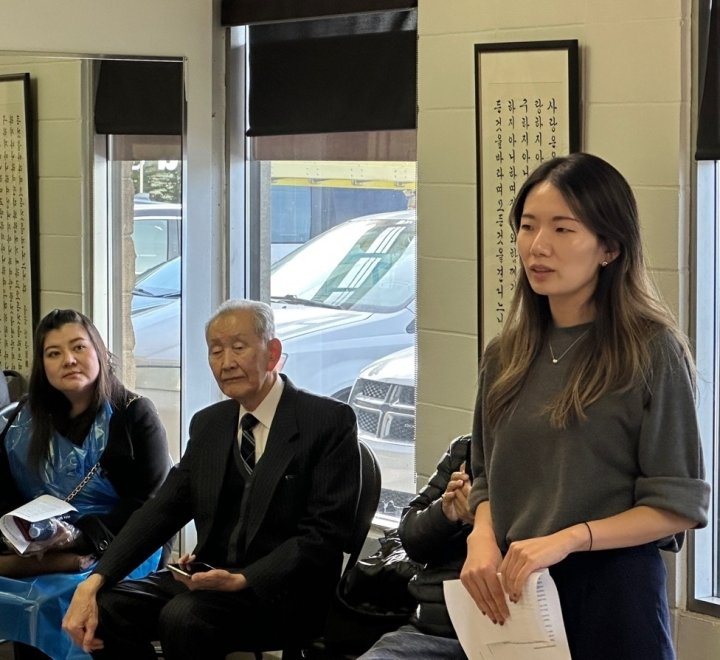 ○ Kuwait City, Kuwait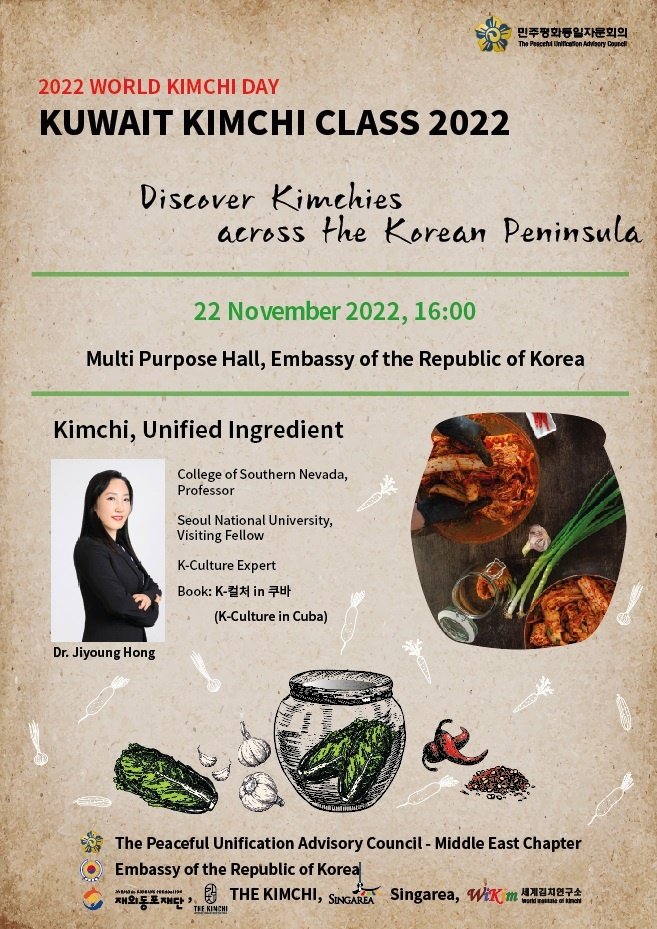 Local residents were invited to Kuwait Kimchi Class to learn about kimchi and enjoy a kimchi-making experience.
The Korean Association in Kuwait, Embassy of the Republic of Korea, and the Peaceful Unification Advisory Council worked together as one to support this festival.
○ Metro Manila, Philippines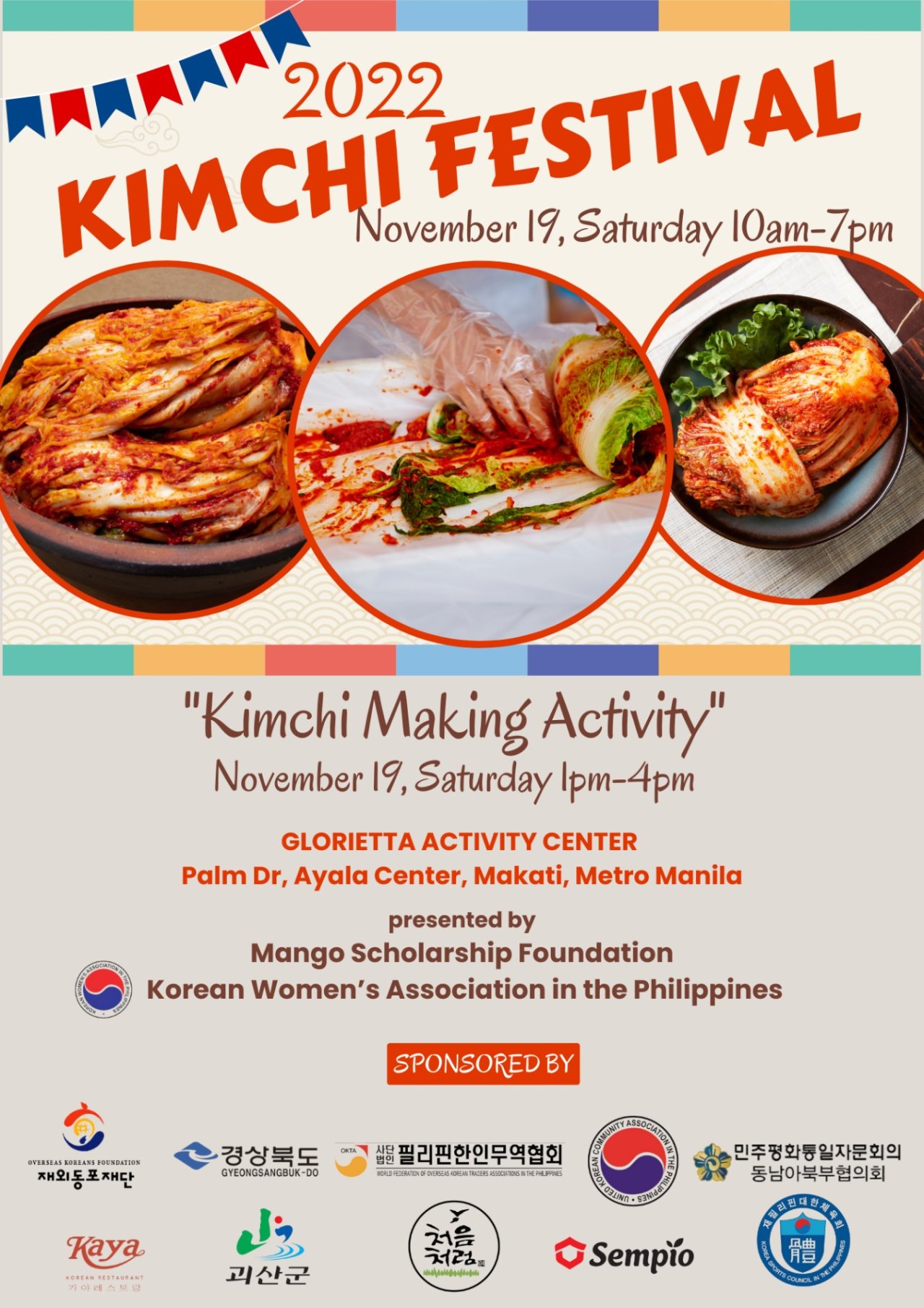 Local residents were invited to the 2022 Kimchi Festival in Metro Manila to mix kimchi seasoning with salted cabbage.
Traditional Korean fan dance and taekwondo performances were put on stage for viewers' entertainment.

This festival was supervised by the Korean Women's Association in the Philippines and the Mango Scholarship Society. Various Korean organizations provided enthusiastic support, including the United Korean Community Association in the Philippines, Korean Sports Council in the Philippines, OKTA Philippines, and the Peaceful Unification Advisory Council.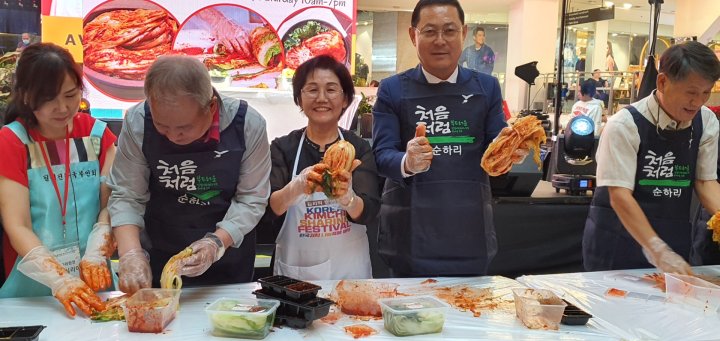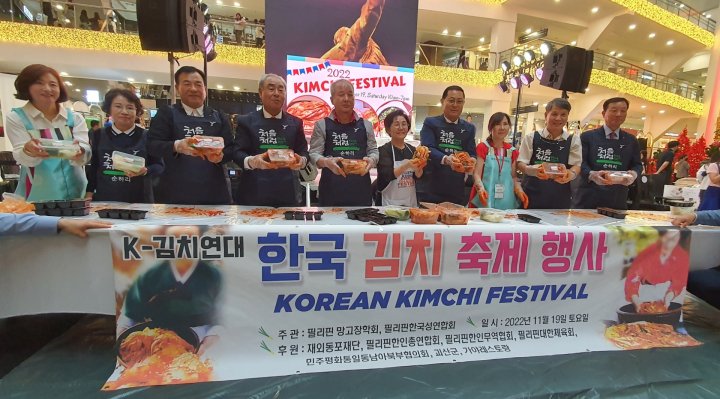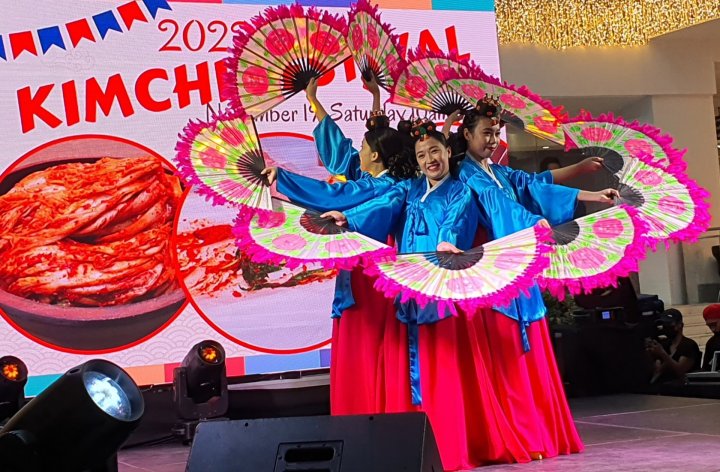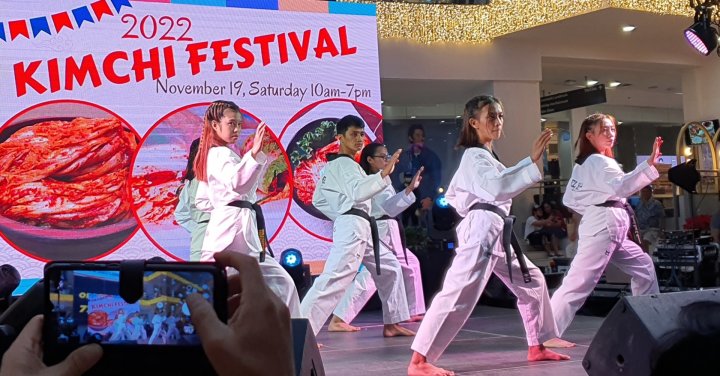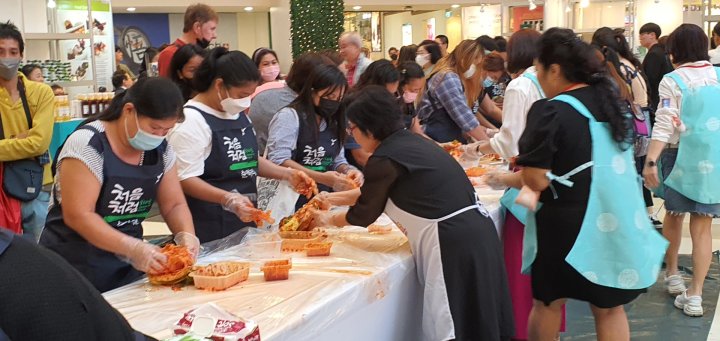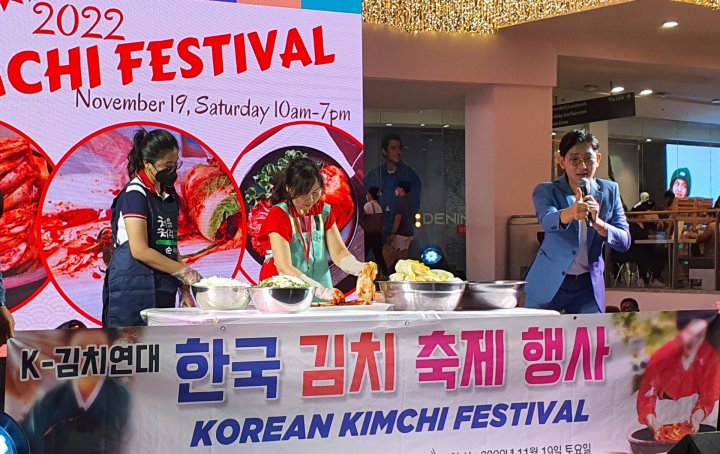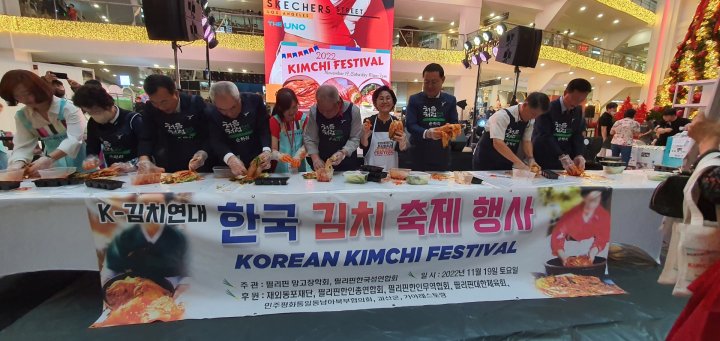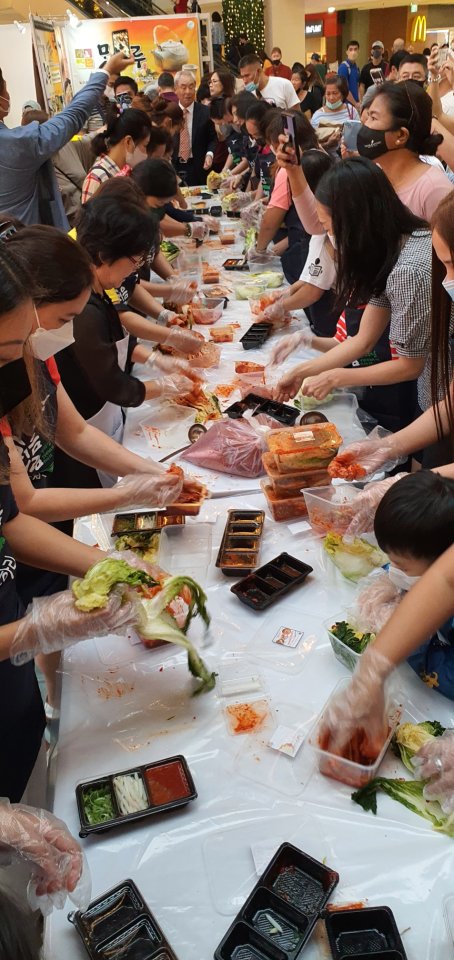 ○ Sydney, Australia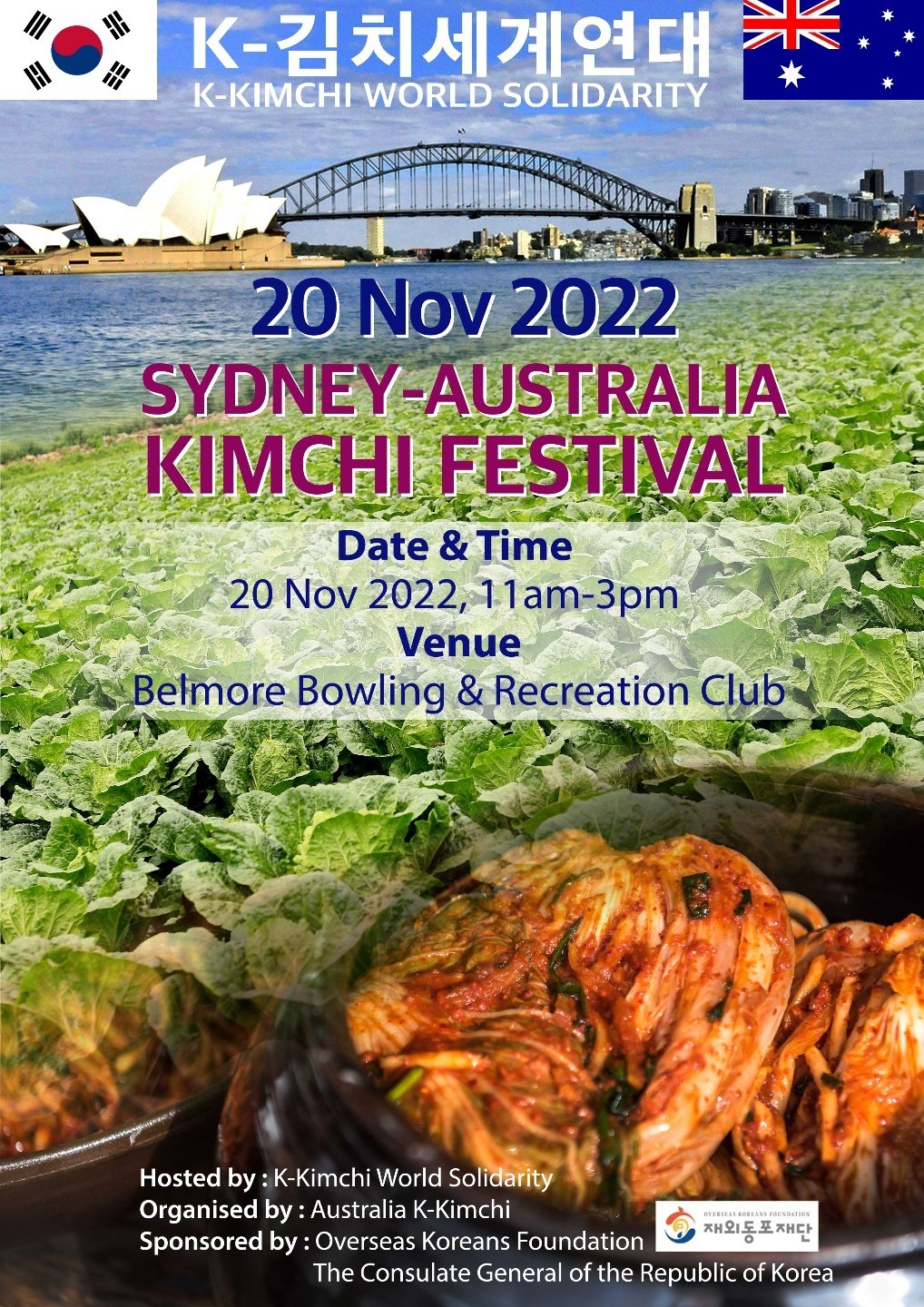 The Sydney-Australia Kimchi Festival was held for adopted overseas Koreans and their foster parents.

Adopted overseas Koreans who have grown into young adults in Sydney and their foster parents participated in the Kimchi Festival.

With the pleasure of listening to traditional samulnori instruments of Korea, they made and tasted kimchi pancakes, king-sized kimchi dumplings, rice balls made of kimchi and laver, white kimchi, whole cabbage kimchi, sliced radish kimchi, and young radish kimchi.